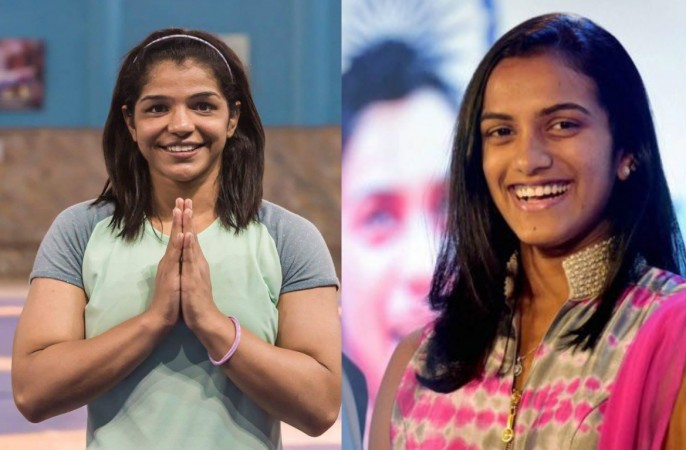 Indian Badminton player PV Sindhu and wrestler Sakshi Malik, who made the nation proud after winning medals at the Rio Olympics 2016, were honoured in Thiruvananthapuram, Kerala on Friday. The winners' coaches Pullela Gopichand and Mandeep Singh, were also felicitated during the event, which took place at a state-run Cotton Hill Higher Secondary School for Girls in the capital city.
During the function, Sindhu, who bagged the silver medal for Badminton, was awarded Rs 50 lakh and a memento, while Sakshi, the bronze medallist for wrestling was presented a cash prize of Rs 25 lakh. Both the coaches were also given Rs 10 lakh and Rs five lakh, respectively.
However, Kerala Chief Minister Pinarayi Vijayan refrained from attending the meeting following an Intelligence report that claimed one of the event sponsors was accused in the land grab case earlier. The event was organised by Kerala State Sports Council (KSSC) and the Directorate of Sports and Youth Affairs (DSYA).
Later, PV Sindhu met the Kerala CM at Chiff House, the official residence of the CM.
"Happy to have met Rio Olympics silver medallist P V Sindhu and her mentor and national badminton coach Pullela Gopichand at Cliff House today," Pinarayi posted on his Facebook page after meeting the badminton player. The CM has also assured to give all support to Gopichand, who has expressed his wish to start a badminton academy in Kerala.
"Sindhu and Gopichand almost spent one hour at the Cliff House. Her father, Arjuna award winner PV Ramana, mother and former Vollyball player P Vijaya, sport council president TP Dasan, Sports Secretary APM Muhammed Haneesh, sports council administrative members P Sasidharan Nair. MR Ranjith and sports council secretary Sanjay Kumar were also present during the meeting [translated from Malayalam]," Pinarayi posted while sharing the photo of his meeting with the Olympic silver medallist.
Check Pinarayi Vijayan's Facebook post here:
PV Sindhu speaks to Red FM Trivandrum about her Kerala visit:
-