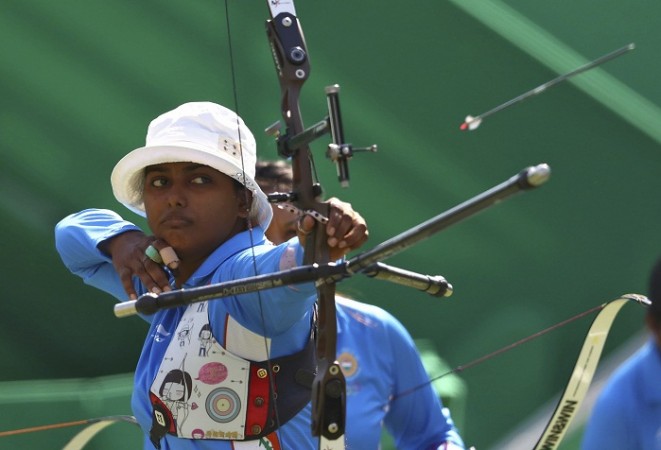 The Indian women archers could not deliver the goods in the team's event, but they will be keen to make amends in the individual competition of Rio Olympics 2016. Though Laxmirani Majhi might have exited the competition, India will pin their hopes on two remaining women archers, Bombayla Devi Laishram and Deepika Kumari on Wednesday.
Both the Indian archers can look for inspiration from Atanu Das, who has marched into the prequarters of the men's competition. Bombayla and Deepika will be keen to maintain the winning momentum in the women's arena.
Bombayla Devi showed some great form in the team's event as well, scoring some big points. The Indian will be up against Austria's Laurence Baldauff, and if Bombayla Devi can get her game right, she can emerge victorious. Her ranking of 69 might not suggest her to be a top archer, but she has all the ingredients to reach the final stages of the archery event.
The girl from Manipur, who is favourite to progress, looked good in the ranking rounds, finishing with a score of 638. Her opponent, Baldauff only attained 619.
Though Bombayla Devi will be the first Indian to participate in the individual round on Wednesday, all eyes will be on Deepika, who has been one of the best archers from the country. The former world number one will battle it out against Georgia's Kristine Esebua, who scored 612 in the rankings round. The Indian woman is also expected to reach the next round of the competition.
Deepika will be more than eager to perform well in the individual competition, after not being able to help India win a medal in the team's event. She has always maintained a high standard, and it is time for the star to show her class. If Deepika can bring her best performance in the future rounds, the former world number one, who has won India medals in world events, can bring glory to India.
Where to watch live
Bombayla Devi Laishram vs Laurence Baldauff round of 32 is scheduled for 6:09 p.m IST (9:39 a.m local time, 1:39 p.m BST, 8:39 a.m ET). Deepika Kumari vs Kristine Esebua will start at 1.27 a.m IST.
Where to watch live
India: TV: Star Sports 2 and Star Sports HD 2. Live streaming: Hotstar.
UK: TV: BBC One. Live Streaming: BBCiPlayer.
USA: TV: NBC Sports. Live streaming: NBC Olympics.