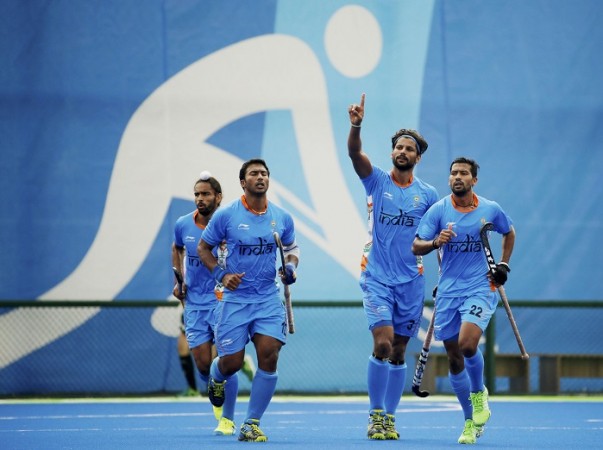 India played some fantastic hockey for majority of the match against Germany, but they were left heartbroken as they lost the contest with Christopher Ruhr scoring the winning goal in the dying seconds of the fourth quarter. The final score read 2-1 in favour of Germany, who have maintained their unbeaten streak in the competition. India's Rupinder Pal Singh's scored the only goal for India.
India and Germany started the game in high-tempo, with both teams keen to take an early lead. India came close in the eighth minute, but Germany's defence stood firm to clear the ball away. Overall, India looked good in the first 15 minutes, asking questions to the German defence, though, they did not have anything to show in the scoreboard.
Germany were playing a high-pressing game, which was also giving India chances on the break. However, it was Germany, who managed to take lead as Niklas Wellen slotted the ball home wonderfully in the 18th minute.
After the goal, it was all Germany, who kept on pressing, and were threatening to score the second goal.
India, who were still maintaining the intensity, with the help of SV Sunil, earned their first penalty corner, and Rupinder Pal Singh's powerful drag-flick helped draw the scores level. It was his third goal of the competition.
India could have taken lead in the 24th minute, but the German goalkeeper denied Nikkin Thimmaiah the goal with a brilliant save. India began to dominate, and was threatening to score their second goal, with their forwards looking sharp.
With the match tied at 1-1, the third quarter started with nothing to choose between the two teams. Germany had their plans clear for the third quarter and were playing some long balls to the danger area, but India dealt with them well.
Rupinder nearly scored his fourth goal of the competition, but his drag-flick was stopped by the German goalkeeper. India took the game to Germany in the third quarter.
With no goals scored in third quarter, it all boiled down to the last 15 minutes. India received a penalty corner, but they could not come up with a positive result with nine minutes left for the match to end. Sreejesh also came with a fine save to keep the scores level.
But, Indian team were shocked as Germany scored a winning goal with a final strike of the ball in the 60th mimnute. It was a killer blow for India, who played some impressive hockey in Rio. India need to play quality hockey in their next few matches to secure quarterfinals berth. India next face Argentina on Tuesday.