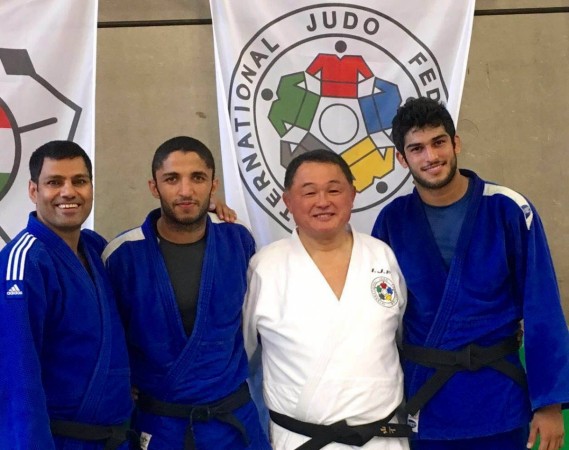 India judoka Avtar Singh, the only athlete from the discipline to represent India in the Rio Olympics, will be expected to impress in every way come the mega quadrennial sporting event.
The 24-year-old's persistence to become one of the best finally proved frutiful last month when the International Judo Federation recognised his talents and awarded him a continental quota, giving him a chance to showcase his skills at the highest level.
One of the two judokas from Asia who will be participating in the Olympics 2016, Avtar has shed sweat, blood and tears to reach the level he is at today. The athlete himself revealed in the past that the Judo Federation of India (JFI) hasn't given him that much of a support as he was expecting. Despite that, Avtar used his talent to do the talking and the rewards are finally here.
The 6'4" tall judoka, born to a lower middle class family in Gurdaspur, Punjab, won a gold medal in the 90kg Judo category at the South Asian Games 2016 earlier this year, and finished fifth in the Asian Judo Championships in April in Uzbekistan after beating judokas from China and Iran. He has made a strong case for himself to make it to Rio 2016.
From cashing in on fixed deposit funds to shelling out all savings, Avtar had revealed that his parents had to give away literally everything so that he could train well. The challenges and hurdles were numerous, but somehow the passion and the belief reigned supreme.
Like the way he uses his long legs to execute single and double leg sweeps on his opponents on the mat to get an upper hand, Avtar shrugged off all the challenges to reach where he is today.
"He [Avtar] has been very dedicated in training," said Indian judo and MMA trainer Khushnoor Jijina to International Business Times, India. Jijina has trained Avtar, sparred with him and has known him for many years. "Avtar had come to specially to train with me and my Sensei Cawas Billimoria to focus on his grappling, takedown techniques and work on his movements.
"His head coach Yashpal Solanki is working hard with him now ahead of the Rio Olympics and he is also taking the guidance of world class judo coach Rodrigue Chenet in Hungary at the moment," added Jijina.
Avtar's stamina is much talked about and Jijina also explained that his counter techniques set him apart from other judokas. "His grappling and counter techniques are very good. He has an all-round game -- from counter defence moves to offencive attacks. It is actually very difficult to throw him to the mat and when it comes to offence, he is unstoppable," explained the Mumbai-based trainer to IBTimes India.
"He is a very hard working boy who's trying to achieve his aims and goals and the presence of good coaches in his life is helping him tremendously."
Jijina feels Avtar is a sure-shot medal contender in Olympics 2016 and only time will tell whether India are in a contention for a medal in Judo in Rio 2016. For the record, no Indian Judoka has ever managed to get a medal in the Olympics. Will Avtar make history? That remains to be seen.
Avtar is expected to face tough resistance from Brazil's Tiago Camilo, South Korea's Gwak Dong-han and Japan's Mashu Baker in the 90kg middleweight men's judo category. The fights will last for five minutes for men and in the case of a tie, the contest goes to 'golden score' with no time limit – the judoka who scores the first point, wins.