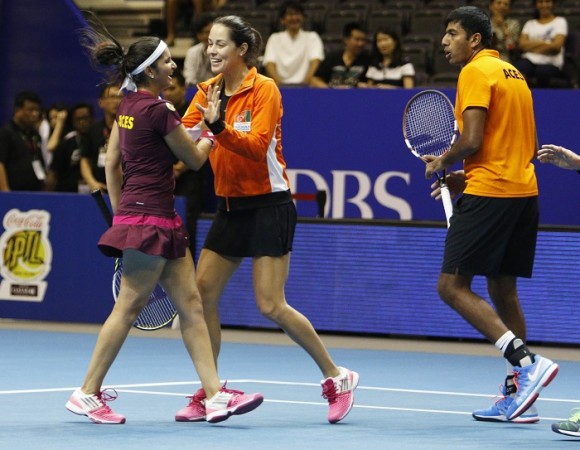 India may not be a superpower in world tennis, but they do have some big names in the doubles circuit. Sania Mirza is ranked number one in women's doubles, while Bopanna is ranked 15th in the men's arena. Both the players will join hands in the mixed doubles competition for Rio, and the pair has it in them to win a medal. But they need to play their A class game.
Six Indian tennis stars will head to Rio, with the hope of returning home with a medal. Leander Paes and Bopanna are paired in the men's doubles, and Sania will play alongside Prarthana Thombare in the women's competition.
So the mixed doubles event, with Sania and Bopanna, is said to be India's best bet to finish in the podium.
There is no doubt that Sania and Bopanna are fantastic doubles players, but they will need to play as a unit, and understand their respective strengths and weaknesses to shine in Brazil. With some world-class stars lining up for Rio, the competition is going to be strong as well.
On paper, Sania and Bopanna's pair looks solid. They will face some strong competition from the Swiss, with Stan Wawrinka and Martina Hingis expected to feature in the mixed doubles. Hingis, like Sania, is one of the best women's doubles player. Other possible pairs include Serena Williams and one of the Bryan brothers (US), Rafael Nadal and Garbine Muguruza (Spain) among other serious contenders.
Sania hopes that her friendship with Bopanna, and knowing one another's game, will help them win a medal in Rio.
"This is not going to be easy, there will be big teams in the fray (the entries will be finalized following the sign in at the venue). We hope to carry our best form into the tournament and let's see where that takes us." the Times of India quoted Sania Mirza as saying.
"Both of us had already committed because of which we couldn't play together in the Slams. But I know Rohan for a long time, we're friends, we've partnered before, we know each other's games."
For Sania, chemistry between the players is an important aspect in her game. It is this chemistry, which has helped Sania win a number for titles with Hingis in the doubles competition.
"I trust Rohan. It's important for me to team up with someone I get along with. There are players who play together when not even on talking terms and still manage to win, for me it's important to be a team. To have that chemistry. We play well together. If we can bring our best games on court we could be in the running."
Besides such things, representing a nation in Olympics is always a special occasion, and there will be weight on their shoulders. Sania-Bopanna needs to absorb such pressure to flourish in Rio.