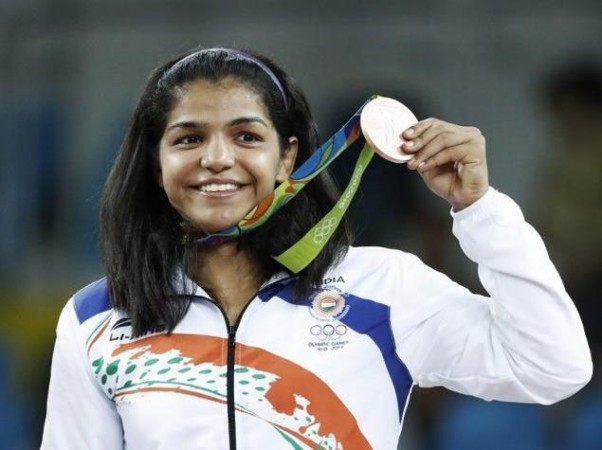 Freestyle wrestler Sakshi Malik says that she is feeling more pressure to deliver following her bronze medal performance at Rio Olympics. The 24-year-old may have gone to Rio as a lesser-known sportsperson, but has now become a household name in India. And youngsters are already looking up to her as an idol.
Sakshi has age by her side and can represent India in at least two more Olympics. She is now aiming to learn from her mistakes to bring more glory to the country.
"Sushil Kumar won his first medal in 2008 (at Beijing) and gave us the belief that India can do so in wrestling. Yogeshwar Dutt also won later. Babita qualified for the Olympics and Vinesh was also doing well for years. So expectations were from them," Deccan Chronicle quoted Sakshi as saying.
"Pressure of course will be high now. Before the Olympics, nobody knew me. But I have to overcome pressure and learn from mistakes in this Olympics to do better in future," she added.
Sakshi's participation in Rio was unexpected as she used to play second fiddle to female wrestler Geeta Phogat and Babita Kumari. When the young wrestler got a chance to qualify for the Olympics, she grabbed it with both hands. Sakshi qualified by defeating China's Zhang Lan in the semi-final of the 58 kg category at the Olympic World qualifying tournament in May.
Sakshi also says that the training camps before the quadrennial event in Bulgaria and Spain helped to put up a good show in Rio. She was surprised by the way in which Japanese coaches took care of their athletes.
"I learnt a lot from Japanese wrestlers during our camps. They are disciplined and cool. Their coaches are also disciplined and take care of small things like diet. We don't even know how and when to eat supplements properly. These small things need to be taken care of," Sakshi said.
Silver medallist shuttler PV Sindhu will also be under pressure to come up with good performances in the future. From here on, sports fans will closely follow the success and failures of the two Rio medallists.