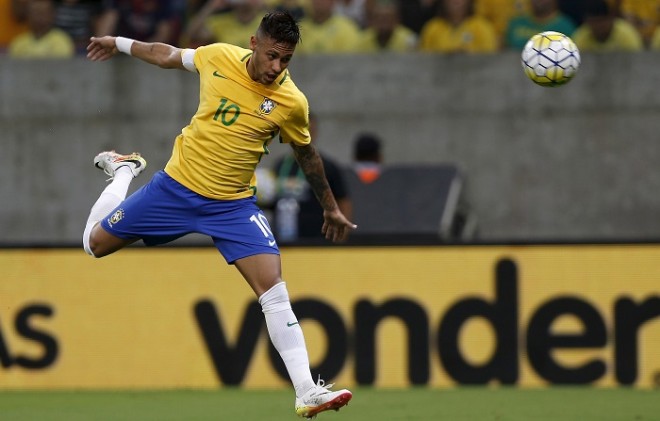 Brazil are one of the strongest football teams in the world, and surprisingly, they have never won gold in Olympics. In the 2012 London Olympics, they only managed to win a silver medal, losing to Mexico in the finals, but captain Neymar wants to go one better this time in Rio 2016, and win the all-important gold.
The whole country will, of course, be backing Brazil. Things cannot get any better for the national team if they manage to win gold in front of their home fans, after their painful loss to Chile in the Copa America finals in June.
"It's a unique opportunity," espn.in quoted Neymar as saying on Brazilian television.
"Not only for me, but for everyone on the team. We know how important this medal is. I know that this gold medal has eluded Brazil so far, and we will do everything to try to win it. It's rare that a country like Brazil, considered the land of football, still hasn't won this gold."
Neymar did not feature in the Copa America, so the Brazilian will be fresh for Rio Olympics, and the nation will depend on his goal-scoring ability to help them win gold medal. It remains to be seen if his second Olympics appearance will help him win one of the coveted prizes in the sportsperson career.
There is no doubt about the player's skills, but he needs to be well supported by the rest of the team members as well. Brazil picked Neymar as one of the three over-23 players to represent the host in Rio. Coach Rogerio Micale hopes that the Barcelona forward can also inspire young players to play quality football in the competition.
"Neymar is special, one of the best players in the world. Any team can benefit from a player like him. He will mean a lot to us. I think that he will be able to lead the youngsters in the squad," said Micale.
Rio 2016 will witness as many as 16 teams vying for the gold medal, but Brazil have been pitted in an easy group, including Iraq, South Africa and Denmark as other nations. They should not have much problems in getting past the group stages, but Neymar will need to be at his menacing best in the knockout stages to win gold, with teams like Germany, Portugal, Colombia and Argentina being strong contenders.