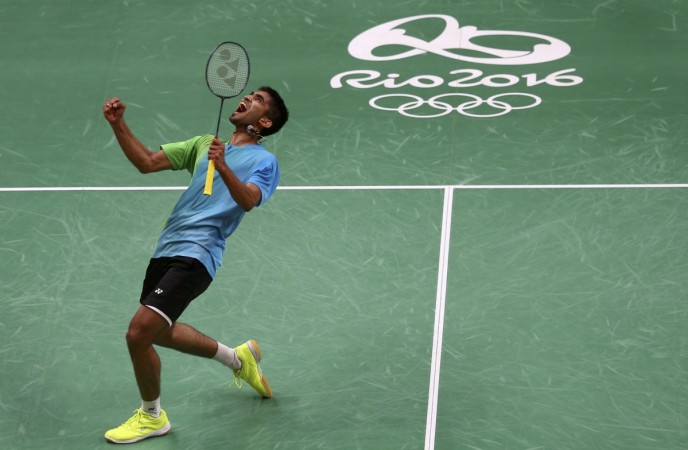 India's shuttler Kidambi Srikanth was at his menacing best in the prequarters of the men's singles in Rio Olympics, as he defeated Denmark's Jan O Jorgensen in straight games on Monday. The score read 21-19, 21-19, and this was easily his best performance in the competition.
Srikanth went 1-3 down initially, but the Indian came up with some quality shuttle play, with a good mix of offence and defence to take 7-5 lead. Srikanth looked aggressive in the early exchanges, and was unleashing some amazing smashes to trouble the Dane.
With some decisive play at the net, Jorgensen came back into the match and tied it 9-9, but Srikanth was not giving much opportunity for Jorgensen to score easy points. The Indian led 11-9, and with some more terrific play, increased it to 15-14.
Srikanth's tactic was simple – attack and only attack, which was also helping him gain important points, and thus confidence as well. With such positive approach, and smashes working perfectly, the Indian clinched the first game 21-19.
The second game also witnessed Srikanth playing wonderful badminton, with accurate and powerful shots down the line. The Indian took a quick lead of 6-3, and was giving it all.
One also needs to mention Srikanth's defence, which was brilliant throughout the game. Srikanth was desperate to progress into the next round, as he dived around the court to not concede easy points.
Jorgensen, who was defending for majority of the first game, began to play aggressively and levelled it at 11-11. Despite some stunning defence by the Indian, Jorgensen increased the lead to 16-14.
The match was becoming highly entertaining, with both players coming up with some great display on the court, defensively and offensively. Srikanth, with some sheer aggression, won some crucial points in the latter stages to clinch the second game in fantastic style.
Srikanth will face China's Lin Dan, another serious medal contender, in the quarterfinals.