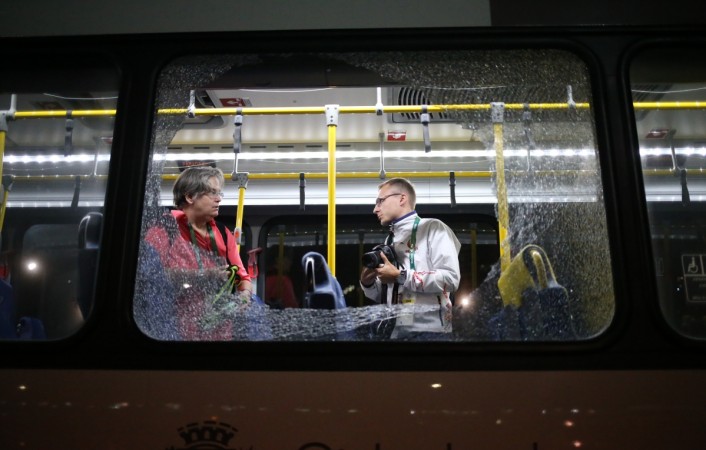 A bus carrying 12 journalists to the Olympics Games was hit by gunfire on the highway in the Curicaca neighbourhood of Rio de Janeiro on Tuesday. The group was on its way from the basketball venue in Deodoro to the Barra Olympic Park. Two journalists were injured in the incident.
The bus was hit twice, and the shots shattered windows. "We were shot at. I mean we could hear the report of the gun," Sherryl "Lee" Michaelson, a retired United States Air Force captain working for a basketball publication in Rio, was quoted by Reuters as saying.
The 12 passengers are said to include four Brazilians and eight foreign reporters. A journalist from Belarus sustained minor cuts on the hand while another volunteer hurt his arm, IANS reported.
Mario Andrada, a spokesperson of the Rio Olympics, said, "We haven't yet been able to confirm what kind of projectile hit the bus... we don't want to speculate," while adding that forensic investigators are trying to establish whether the "projectile" was a bullet or a rock.
The Rio organising committee confirmed the incident and said that a special team including federal police has been asked to investigate the matter.
"We are aware that a media bus travelling had two windows broken by objects coming from the surrounding area... The security authorities are now investigating the incident and we await their report before making further comment," a spokesperson of the International Olympic Committee (IOC) told reporters late on Tuesday night, adding that they are still waiting for the authorities in Rio to send them reports of the attack.
The IOC and the Rio authorities are scheduled to hold a press conference about the accident at 11 a.m. local time on Wednesday.
All buses travelling from Deodoro were escorted by the military following the incident.
The attack comes after an over-speeding bus carrying mediapersons hit a speed breaker, injuring three reporters, on Monday. One of the injured was taken to a hospital.
In another incident, an attacker fired a bullet at the equestrian centre, missing journalists by a few feet. Officials said that his target was either a police blimp or a drone.