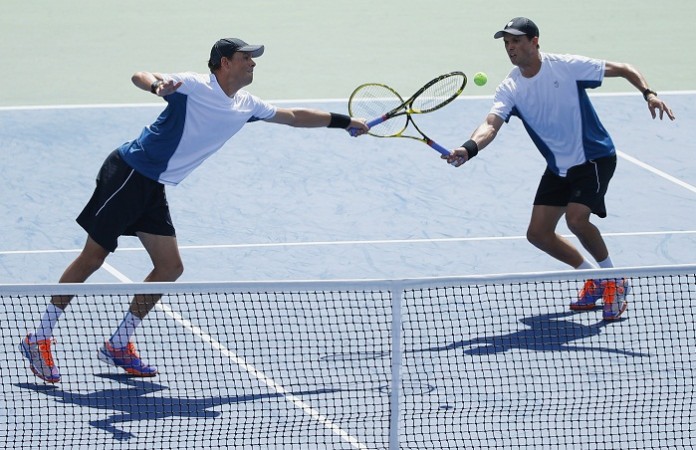 With just five days to go for the Rio Olympics, hot favourite pairs in the men's doubles competition, Mike and Bob Bryan from the United States have decided to not compete in Brazil. This is a huge setback for the organisers, as a number of other athletes, including top golfers also pulled out from the quadrennial event.
The Zika virus has been a major factor for many sportspersons to pull out from the Games. However, the Bryan brothers did not exactly pinpoint Zika as their reason. They only cited health concerns for their withdrawal.
"After countless hours of deliberation, Mike and I have decided to forego the Rio Olympics. Though we'd love to compete again, as husbands and fathers, our family's health is now our top priority," the Bryan brothers wrote on their Facebook page.
"Representing Team USA is one of our proudest tennis moments to date and winning Gold in 2012 will always remain the pinnacle of our career. The Olympics means so much to us for so many reasons and the memories we have wearing the Stars and Stripes will burn brightly forever."
"Thank you to the USTA for the nomination and to our fans for their unwavering support. We wish every athlete luck in their quest for Olympic glory and hope the Rio games are a positive experience for everyone involved."
With this, Mike and Bob would not be defending their title, which they won in London 2012. Tennis fans are sure to miss the brothers, who are a treat to watch. Their chemistry and understanding has helped them win a number of titles, which included all the Grand Slams. The Bryan brothers, had they participated, would have been the team to beat.
Tennis fans will be disappointed as a number of stars have pulled out of the competition. It was only recently, Roger Federer decided not to participate, and now the Bryan brothers. Tomas Berdych, Milos Raonic, Dominic Thiem are other top stars, who will miss the flight to Rio.