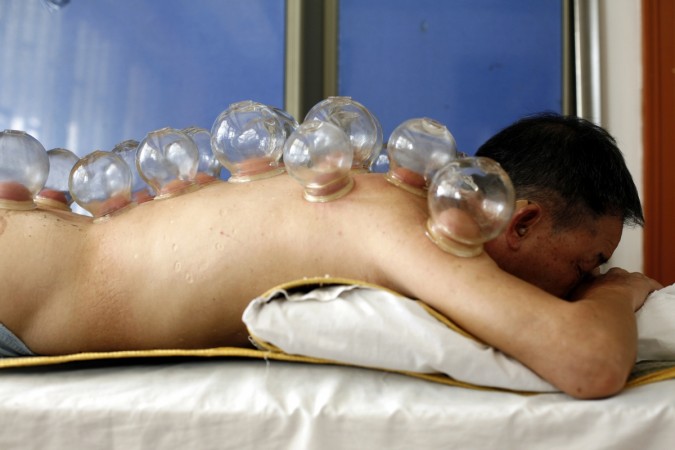 Genius swimmer Michael Phelps is not only striking gold at the Rio Olympics but is also grabbing eyeballs for the purple spots that seem to cover his shoulder area. Phelps and some other athletes taking part in the Olympic games in Brazil have been spotted with these purple dots or cupping marks, which has sparked the debate on the efficacy of the ancient practice of cupping in today's day and age.
Not just athletes but even Hollywood stars such as Jennifer Aniston, Gwyneth Paltrow and Lena Dunham swear by cupping technique, which seems to act as a major pain reliever.
Cupping was in practice centuries ago in China, Middle East and Asia.
Researches have suggested that cupping may have many more health benefits than one could think of. The ancient practice, besides relieving of various kinds of pain, also helps in headaches, heart problems, kidney diseases, fertility and is a lung immunity booster.
Phelps has even gone on to show him undergoing cupping procedure on his Instagram page in a picture and a commercial.
For other A-listers in Hollywood, cupping marks pretty much work like showing off tattoos and has now turned out to be an acceptable health therapy.
So what is cupping and are you a good candidate for it?
Normally, cupping is a non-invasive procedure when warm cups are placed on the sore parts of the body that creates a partial vacuum, stimulates muscles and blood flow and also relieves of pain.
In some cultures, however, the practitioners cut the skin of the patients and the cups thereby suck the blood from the skin.
There are still few studies that back the findings of the ancient practitioners that cupping is a potent pain reliever. But those undergoing the procedure seem to swear by it.
So if you want to try a cupping technique for pain relief, experts suggest that you should go for it by all means, especially if other methods have not worked. Non-invasive cupping or dry cupping by a professional may relieve you of those sore and achy muscles.