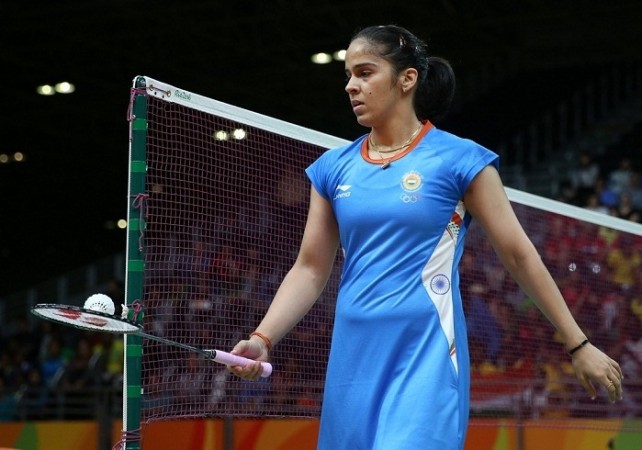 Saina Nehwal came into Rio 2016 Olympics as a huge medal prospect for India, but the shuttler exited the competition from the group stage itself. The former world number one did not look comfortable on Sunday, as she suffered a shocking loss to Ukraine's Marija Ulitina, and now one learns that Saina was playing through knee pain in the quadrennial event.
Saina, who is a brilliant player on her day, lacked movement, and was rather very slow on the court on Sunday. To be fair, Saina did not look her usual self in the first match of the competition against Brazil's Lohaynny Vicente as well, but somehow managed to script a win.
There was no doubt about the effort, which Saina put in her match against Ulitina, but it was not enough as the Indian shuttler lost the match in straight games. The score read 18-21, 19-21.
Saina, in the last 12 months or so, has suffered some huge injuries, which kept her out of major competitions as well. But, she came back strong in the All England Open earlier in the year, and her fitness improved, which helped her win the Australian Open Superseries prior to the quadrennial event. But she suffered a knee injury ahead of the Olympics, which was disaster for India and Saina.
"I had a knee pain and could not give my best. It was heavily strapped, and I tried my best. My movements were not smooth and were painful. It's heartbreaking loss. I also feel very bad about it. It (injury) happened just before the Olympics about one and half weeks back. It happened during training and got aggravated after coming here," Press Trust of India quoted Saina as saying.
But, one should also give credit to the Ukraine player. Ulitina took advantage of Saina's weak movements, and earned some important points with her powerful smashes, which the Indian could not return. With Saina's knee heavily strapped, the world no.61 cited her weakness, and took her game to the next level, drawing Saina forward and pushing her back, troubling the former world number one.
"She played better, but I was not able to move on the court. I tried for improvement but was not successful," Saina said.