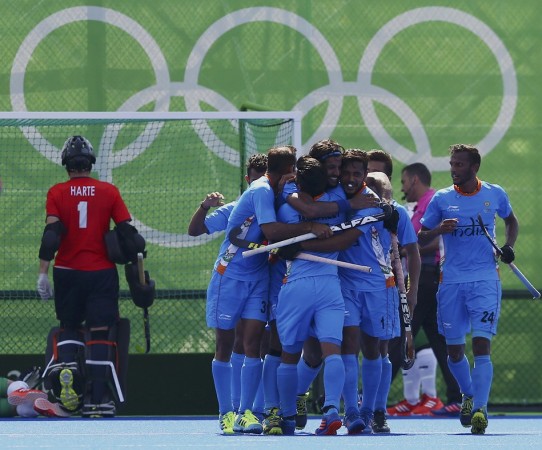 Three penalty corners, one to the bottom corner and two to the top, and India got their Rio Olympics hockey campaign off to a winning start, with a 3-2 victory over Ireland. Knowing only a win will do in a difficult Pool B, India huffed and puffed, but just about did enough to fashion a win over a well-drilled Irish side.
VR Raghunath opened the scoring right on the first quarter hooter for India, before Rupinder Pal Singh brought his deadly drag-flicking skills into play, striking a couple of belters in the second and fourth quarters to give India the win. John Jermyn and Conor Harte were the scorers for Ireland, in a valiant effort.
While the fact that all the goals came via setplays might suggest a bit of a cagey match, with both teams looking to pounce on the mistakes, it actually was a pretty entertaining game, with India starting off quite strongly. Knowing the importance of taking control early on, India started off brightly, attacking with plenty of pace and pinning the Ireland defence back.
However despite the early pressure, chances, and as a result, goals, just would not come, even if the dominant team was India. It took until the final minute of the first quarter, with 41 seconds to go to be exact, for India to win their first penalty corner, and it wasn't a successful one, as the team in blue made a complete hash of the golden chance to take the lead.
However, right on the one-second-to-go mark, India won another penalty corner, and two more followed. The goal finally came in that third consecutive short corner, as Raghunath bulleted a shot low and hard to the right of the impressive Ireland goalkeeper David Harte.
India lost a bit of their forward momentum in the second quarter, with Ireland, while circle penetrations not being that prevalent, looking dangerous every time they went into India's half. India also seemed to panic a little bit when Ireland got that ball in their circle, with PR Sreejesh needing to bring all his brilliance into play to ensure the Irish would not equalise.
The comfort levels for India increased in the 27th minute when Rupinder thumped a penalty corner into the top corner, but this Irish team would not say "alright, let's just go through the motions now."
On 45 minutes, Jermyn struck Ireland's opening goal to make it 2-1, and while Rupinder restored India's two-goal lead four minutes later, via another strong hit, Ireland, yet again, put the pressure right back on their opponents, with Conor Harte scoring just past the 56th minute mark, after the goalscorer got a second bite at the cherry to scoop it over Sreejesh, who had made an initial save.
Desperate for at least a draw, Ireland went all out attack, even pulling their goalkeeper, and while there were a few nervy moments in there, India just about held out for the 3-2 win.
In the first match of Pool B, Argentina and Netherlands played out an entertaining 3-3 draw.
Jeroen Hertzberger opened the scoring for the Netherlands, only for Lucas Vila to make it 1-1. Mink Van der Meerden gave Holland the lead again in the 36th minute, and the Dutch looked to be headed for a victory when Severiano Van Ass scored seven minutes later, but Argentina fought back brilliantly through goals from Vila and Matias Paredes to salvage a point.