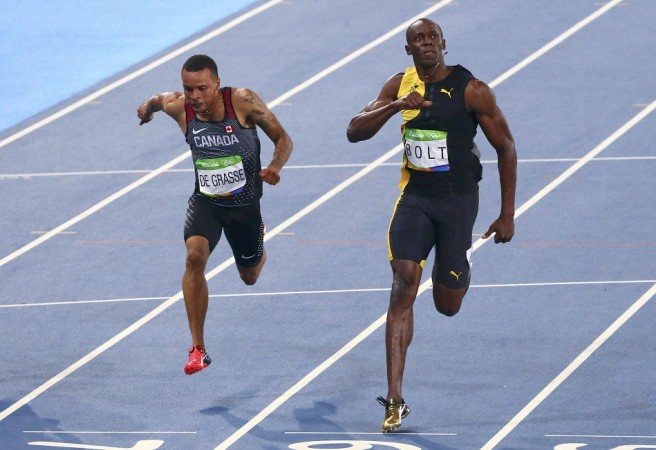 When Usain Bolt runs, he wins. When Usain Bolt runs in the Olympics, he wins with plenty to spare. If there ever was even a conversation on who the greatest sprinter of all-time is, Bolt made sure it would not be needed anymore, with a run that was as brilliant in its simplicity as it was entertaining; a run of such class and ease that it would have been impossible for even the biggest Justin Gatlin fan (yes, yes there are a few of them around) to not cheer and revel in the sheer brilliance that is Usain St. Leo Bolt.
Over the past couple of years, Gatlin has done everything possible to try and find a chink in Bolt's armour. The Jamaican might seem human in normal events, in Diamond Leagues and Invitationals, but when it comes to the really big ones, he is as close to a sure bet as they come – ah, come to think of it, he is the definition of a sure bet.
Bolt showed he is still the man to beat in the World Championships in Beijing last year, edging the in-form Gatlin, who was overawed by the pressure and completely lost his shape in the final 20 metres. Yet, there was doubt over the Jamaican's chances in Rio. After all, since those World Championships Bolt had not really had a great time, with injuries and time off the field only increasing those doubts, especially considering Gatlin continued his merry way.
Some even said Gatlin would be better for the World Championship loss. This time, at the Rio Olympics, when he sees Bolt catching up with him, there would be no panic, no losing of the shape, and if he stays calm, there is a good chance that the Jamaican will just have too much to do, in a race that lasts less than 10s.
Gatlin got off to a great start again at these Rio Olympics, taking the lead early on and looking like a possible winner. However, while Bolt's World Championship win was a mix of Gatlin's mistake and the Jamaican's big-race ability, a mixture was not necessary in Rio, it was pure, unadulterated brilliance.
When Bolt caught up with Gatlin, the American was going fairly well, but it did not matter, because the defending champion was going better, much better, so much better that he waltzed past the rest of the field and Gatlin before thumping his chest as he crossed the line.
That was the moment that any doubts over Bolt's position in the world's greatest conversation ended. Here was evidence that the man from Trelawny was the undisputed greatest of all-time – the best on the field and the most popular one off it. During a time when the sport is being threatened with one doping scandal after another, Bolt is the Gandalf to the Saurons of the world, the one who pushes away those doubts that always linger every time you see an athlete put in a ridiculous time.
There is never any such doubt surrounding him, because he is just that good, and the fact that he kept and continues to keep the great sport of athletics still worth watching, will be his greatest legacy. That and those Olympic gold medals – seven and counting at the moment, with two more surely to come.