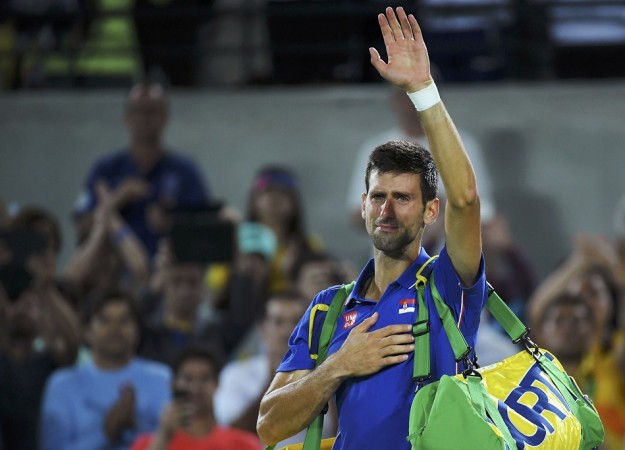 When Novak Djokovic walked out of the Rio Olympics Tennis Centre with tears flowing down his face, you could see just how much this tournament, and winning it, meant to him. Not in his wildest dreams, even when the draw set him up with the dangerous Juan Martin Del Potro, would Djokovic have imagined bowing out of the tennis event of the Olympics in the first round.
However, sport has a crazy way of grounding you. After winning the French Open title in style, with another Grand Slam final victory over Andy Murray, the proverbial world was at Djokovic's feet; he looked as close to invincible as you can get in tennis, with a calendar Grand Slam, and a gold medal in Rio, almost looking like a foregone conclusion.
Then came the Wimbledon upset – a third round defeat to an inspired Sam Querrey, the gentleman American, who has never quite his the heights many thought he could. But, soon after, in his first tournament back from relinquishing his hold on all four majors, Djokovic marched to the Toronto Masters title, albeit without Murray, Roger Federer or Rafael Nadal to worry about.
Nevertheless, that victory was thought to be a portent of things to come – Djokovic was back to his best it seemed, with the gold medal seemingly his to lose, provided he beats Murray in the final (surely, these two would clash in the final again).
However, yet again, the sporting Gods showed Djokovic is a mere mortal after all, when for the past two years, he has played tennis that even the immortals would have found difficult to stop.
Under the lights in Rio, after the match had to be rescheduled owing to some crazy winds, with a near capacity crowd roaring both players on, and refusing to quiet down, despite repeated warnings from the chair umpire, Djokovic found his match in Del Potro, who was inspired in his 7-6 (7-4), 7-6 (7-2) victory, four years after he trumped the Serbian in the bronze medal match.
The fact that the world number one crashed out after losing two tiebreakers might suggest that wonderful thing called luck, so important in sport, deserting him a little, but it was also a sign of that peerless mental toughness that Djokovic brings to every single match, going on a holiday as well.
Against Querrey, at Wimbledon, peak Djokovic would have marched past his opponent after winning the third set, especially after all the momentum was lost by Querrey when the match had to be postponed to the next day.
Djokovic lost 7-6 (8-6), 6-1, 3-6, 7-6 (7-5) to Querrey in a match that went on for two days
Instead, Djokovic froze again in the fourth set, losing in a tiebreaker – and that by no way diminishes the quality of tennis Querrey produced – and there he was, out of Wimbledon, much to everyone's surprise.
This was a man that Serena Williams said would ease to the Calendar Grand Slam, something the women's world number one just narrowly missed out on in 2015.
So, to see Djokovic bow out in the third round of Wimbledon was one of the biggest shocks in recent memory, and then came this one, on Sunday, with that sometimes-unbelievable mental toughness, the ability to play the big points better, deserting him again, as one forehand after another came rocketing back from the other end.
Knowing Djokovic, he will come into the US Open determined to show all those naysayers wrong and prove to himself that he is still the best player in the world. But, if that mental toughness goes missing again, the best counter-puncher in the game could suffer a knockout blow from which, rising up could prove to be difficult, even for the 12-time Grand Slam champion.
And at a time when two of the "Big 4" – Roger Federer and Rafael Nadal – are struggling for fitness and form, it would be a great pity if a third of the golden era were to begin a career fade as well.