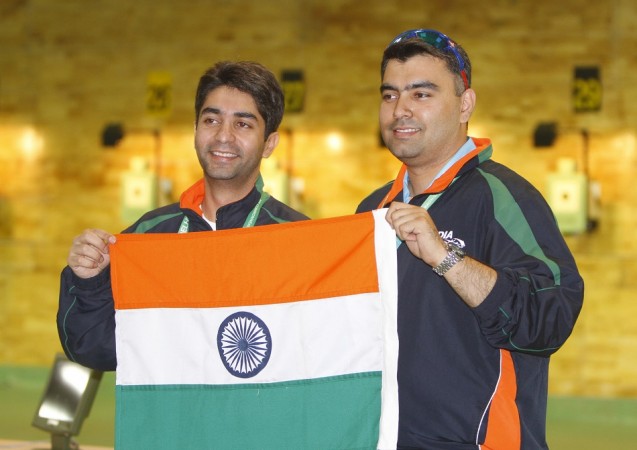 In two days of full-fledged competition, there have already been plenty of upsets, shock results and heartwarming performances. Plenty more of that will be in store on Monday as the Rio 2016 Olympics bandwagon continues its merry way.
While India largely disappointed again on Sunday, there was a silver lining as Dipa Karmakar entered the finals of the vault in Rio. The chief point of interest from an Indian perspective on Monday will be shooting, with four athletes, in two events, looking to give India their first medal of the Rio Olympics.
Abhinav Bindra, India's only individual gold medallist, will be in action in the men's 10m Air Rifle, with Gagan Narang also looking to impress in the same shooting event. These are two of the country's most experienced marksmen, and the onus will be on them to set the tone for the rest of the athletes to follow.
Making the final alone should not be good enough for India anymore, and if Bindra and/or Narang can win a medal for India on Monday, it could be the sign of great things to come for the country.
The other shooting event on Monday is the men's trap, with Manavjit Singh Sandhu, the vastly experienced shooter, and Kynan Chenai, the talented youngster, looking to make their mark, as India look for medals from the duo.
Hockey is another big event for India on Monday, with the men's team, after a nervy opening win over Ireland, facing off against the defending champions Germany.
The women's team runs into Great Britain, and they will want to improve on their 2-2 draw against Japan.
In archery, after the disappointment of the women's team event, Laxmirani Majhi will hope to hit the bulls-eye in the individual round, when the Indian comes up against Alexandra Longova of Slovakia.
There are a couple of swimming events with Indian interest as well, even if neither is expected to compete for a medal. Shivani Kataria will be in action in heat one of the women's 200m freestyle, while Sajan Prakash will feature in the 200m butterfly, also in Heat 1.
Rio 2016 Olympics: Daily schedule, Aug. 8.

Shooting: Men: 10m Air Rifle qualification (9 a.m. local time, 1 p.m. BST, 5.30 p.m. IST) at Olympic Shooting Centre.

10m Air Rifle final (12 p.m. local time, 4 p.m. BST, 8.30 p.m. IST) at Sambodromo.

Men: Trap qualification (9.30 a.m. local time, 1.30 p.m. BST, 6 p.m. IST) at Olympic Shooting Centre.

Trap men's semifinals (3 p.m. local time, 7 p.m. BST, 11.30 p.m. IST) at Olympic Shooting Centre.

Followed by Trap bronze medal match and then the Trap gold medal match.

Hockey: Men: India vs Germany (11 a.m. local time, 3 p.m. BST, 7.30 p.m. IST) at Olympic Hockey Centre.

Women: India vs Great Britain (6 p.m. local time, 10 p.m. BST, 2.30 a.m. IST) at Olympic Hockey Centre.

There are eight matches scheduled in total, with the first one beginning at 10 a.m. local time.

Archery: Women's Individual 1/32 eliminations: Laxmirani Majhi vs Alexandra Longova (10.57 a.m. local time, 2.57 p.m. BST, 7.27 p.m. IST).

Some of the men's and women's individual 1/32 and 1/16 eliminations are scheduled for Monday.

Swimming: 1.02 p.m. local time (5.02 p.m. BST, 9.32 p.m. IST).

Other events for Monday: Rowing, water polo, fencing, volleyball, beach volleyball, handball, equestrian, weightlifting, judo, table tennis, tennis, boxing, rugby sevens, canoe slalom, sailing, basketball, diving, artistic gymnastics (Dipa Parmakar does not feature today).
Where to Watch Live

India: TV: Star Sports 1, 2, 3, 4 and DD National. Live Streaming: Hotstar.

UK and Ireland: TV: BBC. Live Streaming: BBCiPlayer.

Brazil: TV: SporTV, Globo, Fox Sports and ESPN.

Australia: TV: Channel 7, 7Two and 7Mate. Live Streaming: Channel 7 online.

USA: TV: NBC. Live Streaming: NBC Sports live extra, NBC Olympics and NBC Olympics app.