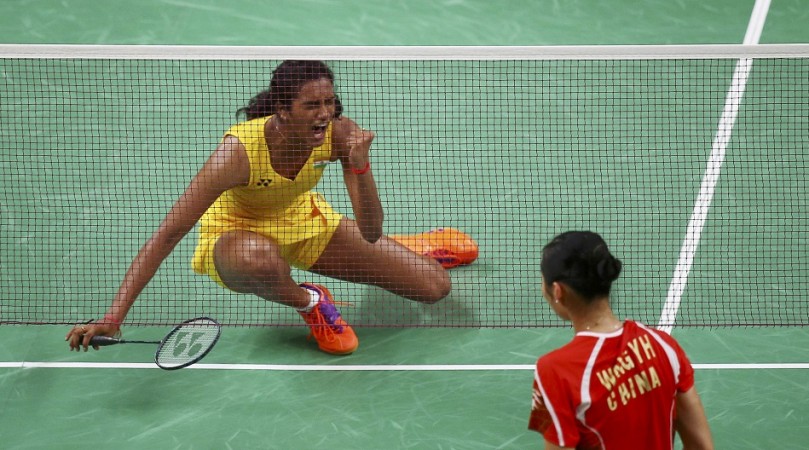 Saina Nehwal might have suffered an injury-enforced exit from the Rio Olympics, but PV Sindhu is there to keep the flag flying, after the rangy Indian put in a superlative performance against world number two Wang Yihan in the women's singles badminton event.
Coming into the quarterfinal match with an inferior 2-4 head-to-head record, Sindhu made sure she would add another win into her side of that statistic, by holding her nerve in the big points. This match was always going to be a close one, and so it proved as well with the 21-year-old Indian coming through 22-20, 21-19 in a quarterfinal that lasted 52 minutes.
To win this match, Sindhu was going to have to be at the top of her game, and while there were a few times when her shots let her down, for the most part, she remained the more consistent player, which, in the end, proved to be the difference.
Wang is a player who can be hit-and-miss sometimes, and the key was that in those final few points of each game, she seemed to tense up a little bit. Sindhu sensed that and went for the kill to great effect.
The first game was locked at 20-20, before Sindhu took the lead after a nice return, which gave her the opportunity to control the point. On game point, Sindhu let Wang make the mistake, forcing the Chinese to go the for the line, which in this case, she missed.
Sindhu was in control for much of the second game, jumping to an 8-3 lead, before taking a three-point advantage into the small break. That lead bulged to 18-13 as the Indian fans in the arena cheered on every point of Sindhu's. However, Wang is a class act for a reason, and the Chinese stormed back to lock the game at 19-19, turning it into a battle of nerves again.
A powerful smash from Sindhu and another shot into the net from Wang, though, meant the Indian is now just a win away from a guaranteed medal at the Rio Olympics.
Next up for Sindhu is a semifinal against Japan's Nozomi Okuhara on Thursday, with world number six. If Sindhu wins this match, she will be guaranteed a silver medal, otherwise she will have to battle it out for the bronze.