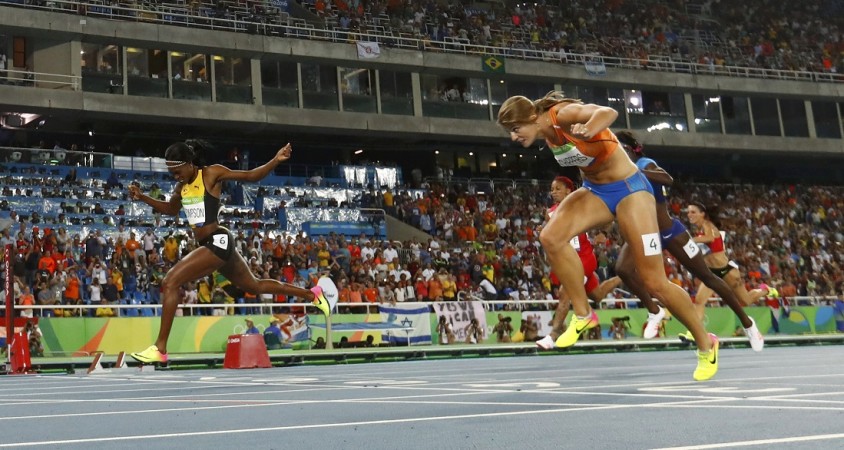 Usain Bolt dipped well under 20 seconds to win his semifinal, while laying down the gauntlet to his rivals ahead of the mouthwatering men's 200m final on Thursday, which will not have Justin Gatlin, who failed to qualify. While Bolt shone in the 200m, the night belonged to his compatriot Elaine Thompson, who completed a grand double to add the women's 200m title to go with the 100 she won last weekend.
Thompson was brilliant, again, beating out the favourite Dafne Schippers of the Netherlands to clinch gold for Jamaica in 21.78s. Schippers (21.88s) had to settle for silver, while USA's Torie Bowie (22.15s) took the bronze medal.
"My school motto was 'let the light shine' and I let my light shine," Thompson said. "It's a big surprise to me because I have had a hamstring injury. You must overcome these things and I am standing here with a gold. To beat Dafne Schippers is a hard run."
Earlier, in the men's 200m semifinals, Bolt made a statement by running the fastest time of the day. Bolt won his semifinal in just 19.78 seconds, with Canada's Andre De Grasse, who won bronze in the men's 100m, impressing again with a time of 19.80s, coming in just behind the defending champion in Semifinal 2.
The 400m bronze medallist in Rio – Lashawn Merritt – finished with the third fastest time of 19.94, but it was his fellow American who grabbed the bigger headlines after failing to even qualify. Expected to be Bolt's biggest challenger again, Gatlin made a big mistake in the third semifinal, only managing a third place finish, after seeming to slow down, thinking he had the race in the bag.
With an ease into the final beckoning, Gatlin could only come in behind Alonso Edward (20.07s) of Panama and Churandy Martina (20.10s) of the Netherlands in a time of 20.13s. That time was not good enough to see the America go through, with semifinal three knocking another big name out in Yohan Blake, who finished a poor sixth, in a way below par time of 20.37s.
The final event of the day was the women's 100m hurdles and it was a US clean sweep, with Brianna Rollins coming in ahead of her countrywomen Nia Ali and Kristi Castlin. Rollins won in a time of 12.48s, while Ali (12.59s) and Castlin (12.61s) weren't too far behind as the Americans created history by becoming the first country to win all three medals in this event.
In the women's long jump, there were plenty of American smiles as well, after USA's Tianna Bartoletta (7.17m) took gold ahead of her teammate Brittney Reese (7.15m). Serbia's Ivana Spanovic (7.08m) had to settle for bronze.
The men's 3000m steeplechase title was won by Conseslus Kipruto (8:03.28) of Kenya, with Evan Jager (8:04.28) of the US coming in second, well ahead of bronze medallist Mahiedine Mekhissi (8:11.52) of France.