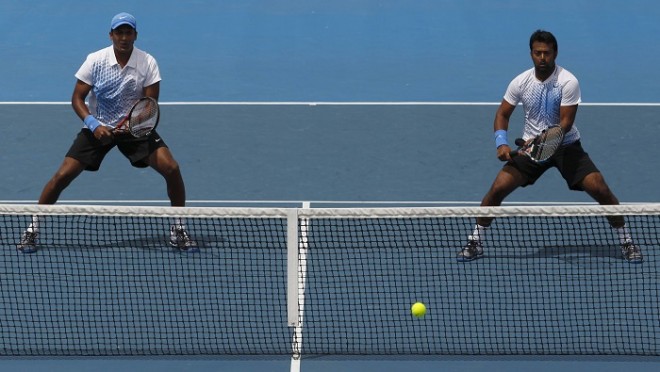 For once, there was little hope that India's most successful pair in Tennis -- Leander Paes and Mahesh Bhupathi -- will reunite for the upcoming Rio Olympic games. But all hopes were dashed as it was confirmed on Wednesday that the duo will not be seen in action together at the men's doubles event in the mega event later this year.
There were rumours that the duo, who have a win-loss record of 303-103, will get a wild-card ticket to the Olympics in Rio.
But the president of the Asian Tennis Federation and the vice-president of the International Tennis Federation Anil Khanna has confirmed that Paes and Bhupathi will not be seen in action together at the Olympic games later this year as there are no wild cards available for this year's Tennis competition.
"Let me make it clear to you that there are no wild cards available this year. No national federation can apply for one. They have sent a letter to all countries on April 6," Khanna was quoted as saying by India Today.
"I can't say anything on that but I have told you there are no wild cards."
Both Paes and Bhupathi cannot make it to the Olympics as individuals or as a team because of their rankings. Paes can only play at the mega event by improving his ranking till the cut-off mark during the French Open. He also has to hope that Rohan Bopanna improves his ranking and enters the top 10. As a result, Bopanna can choose any partner. In that case, in spite of the grudge that Bopanna has, he will have to play with Paes at the Rio Olympics.
Also, a men's doubles team is crucial for India as only one member of that team can partner with Sania Mirza in the mixed doubles event at the games.