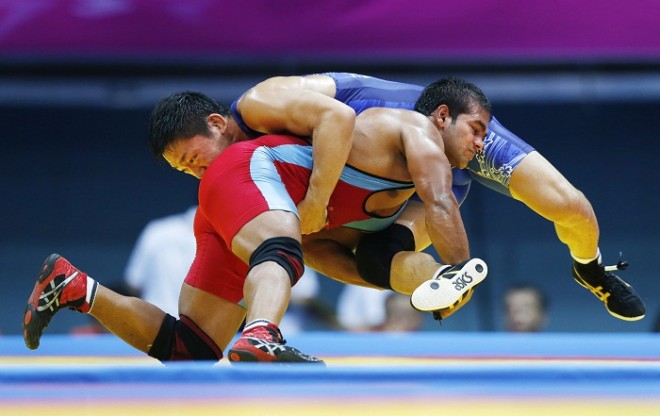 Narsingh Yadav's journey to Rio Olympics 2016 didn't come easy by any means as he had to get past two major challenges to reach this far — first, performing to the best of his abilities to seal a Olympics quota berth for the nation in the Rio games and then, edging the legendary Sushil Kumar to represent India.
With the two challenges now in the backseat, the 26-year-old will look to fulfil what he couldn't in the previous two occasions in the mega quadrennial sporting event. A torn ligament had ruled him out of the Beijing Olympics 2008, dashing his hopes of making it to the first Olympics of his career.
That didn't stop him. Two years later in the Commonwealth Games in New Delhi, Narsingh battled through injury and clinched the gold medal in the 74kg freestyle wrestling category. He was defeated in the previous round but lady luck stayed beside the Indian wrestler as he became the last-minute replacement in the final and made the most use of it.
"I felt I was the best wrestler at the trials in the 74kg category, but ended up losing the final. I was devastated," recalled Narsingh in an interaction with the Times of India. "But as destiny would have it, my opponent tested positive for some illegal substance and I was given an opportunity to fight.
"After that I won a lot of accolades. People began respecting me. It helped me forge an identity. It felt really nice."
Narsingh featured in the first-ever Olympics in his career in 2012 but he couldn't make an impact. However, the medals won by Sushil and Yogeshwar Dutt gave him hope. "I was thrilled that we won two medals. It gave me the confidence that I too could do well for the country if I continued working hard," he said.
Now, with all the challenges and obstacles put behind, Narsingh can really hope to make his moment count and look towards his medal quest, getting past the likes of Jordan Burroughs of the USA, one of the favourites in the 74kg freestyle wrestling event in the Olympics. "Winning medals depends on a wrestler's ability, luck and God's wish. That apart, an athlete must stay grounded," continued Narsingh.
"We should not become complacent after winning. Humility is more important than a medal of any shade. If I doubted myself, I would rather have not participated at the Games."