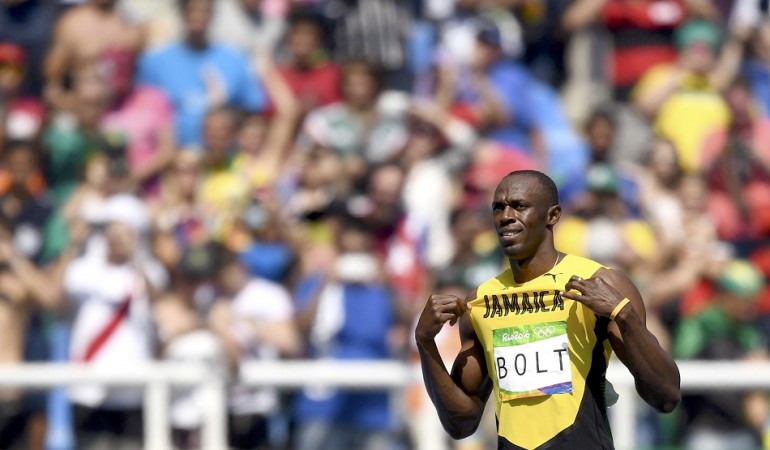 Usain Bolt, after entertaining the world in the 100m of the Rio 2016 Olympics on Sunday, began his final individual Olympic title attempt in his inimitable style, with a comfortable win in the 200m heats on Tuesday.
Starting from lane 5, Bolt did not have to exert too much energy, coming through in a time of 20. 28s, despite easing up considerably towards the end – he was at walking pace in the final 10m – in Heat No.9, after, like he always does, soaking up the cheers initially before taking in the wondrous applause from the fans who had all come to see the Jamaican in all his glory.
There were plenty of good times in the heats, all of which were of high quality, with most of the usual suspects coming through without too any worries.
Justin Gatlin was one of those who did not look that great in his heat, but he did not need to, easing through in 20.42s to come through as the winner, ahead of Italian Matteo Galvan and Ramon Gittens who finished with the same time of 20.58s.
In the early heat, Yohan Blake qualified for the semifinals, which will be run on Wednesday, as well, albeit only in second, even if it was in a time much better than Gatlin's winning one. Blake came in second at 20.13s, just behind Spain's Bruno Hortelano, who timed 20.12s.
Nickel Ashmeade of Jamaica and GB's Adam Gemili are a couple of ones to watch out for as well, after they put in an impressive run in their Heat, finishing in times of 20.15s and 20.20s.
USA's Lashawn Merritt, the bronze medal winner in the 400m, was impressive in his 20.15 victory, with Christophe Lemaitre coming through in second at 20.28s.
Then came the time for Bolt and his usual brilliance, before the bronze medal winner of the 100m – Andre De Grasse – ran another impressive leg, winning his heat in the fastest time of the day in 20.09s.