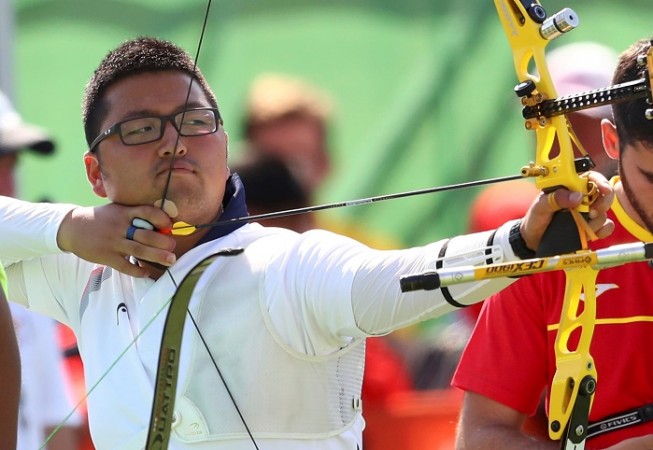 South Korea's Kim Woo-jin has already made his presence felt in the Rio Olympics 2016 after he shattered the world record in the men's individual recurve archery ranking round at the Sambodromo on Friday. Woo-jin scored a staggering 700 points to break the previous record of 699 set by fellow South Korean Im Dong-hyun at the London Olympics in 2012.
Kim Woo-jin will be facing Gavin Sutherland of Zimbabwe at the same venue in the round of 64 of men's individual recurve archery event.
"Getting the world record is very important but tomorrow's matches are more important. It's just the ranking round," Kim Woo-jin was quoted as saying by Reuters.
Kim Woo-jin has already won a gold medal with South Korea men's team. They defeated the United States of America's team in the final of the men's team event at the Sambodromo on Saturday.
After clinching the gold medal in the team's event, Woo-jin will be pumped to take a shy at the individual event as well.
Lee Seung-yun and Ku Bon-chan, who were a part of Kim Woo-jin's team, will also be seen at the individual event on Monday.
Former world champion Brady Ellison of the US also looked in good touch during the men's ranking round on Friday. He scored an impressive 690 points, and, as a result, he is now the second seeded archer.
Italy's David Pasqualucci finished third in the ranking round with 685 points. India's Atanu Das, who will be competing with Nepal's Jitbahadur Muktan on Tuesday, finished an impressive fifth.
Men's individual recurve archery Round of 64 is scheduled to start at 11:30 a.m. local time (3:30 p.m. BST, 8 p.m. IST) at Sambodromo, Rio de Janeiro, on Aug. 7.
Where to watch live
India: TV: Star Sports 2 and Star Sports HD 2. Live streaming: Hotstar.
UK: TV: BBC One. Live streaming: None.
USA: TV: NBC Sports. Live streaming: NBC Olympics.