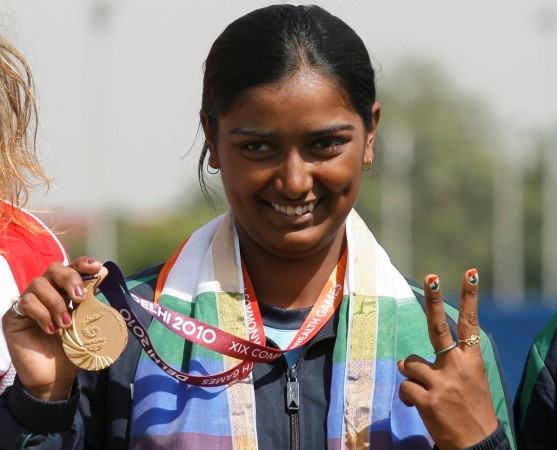 India's gold quest gets under way on Friday as one of the best prospects from the country in the Rio Olympics 2016 will be seen in action, just before the start of the opening ceremony. The Deepika Kumari-led India women's archery contingent, featuring Laishram Bombayla Devi and Laxmirani Majhi, will ply their trade both in the individual and the team event.
Sambodromo, the venue for carnival school parades, will play host to one of the ancient sports of the world in Olympics 2016.
The women's team ranking round would take place on Friday, while the eliminations are scheduled for Aug. 7. The team final, meanwhile, is scheduled for Aug. 8. India have participate in the archery event in every Olympics since 1988, barring the 2000 Sydney Olympics, but have never been able to bag a medal.
Their best performance in the event so far came in 2004 and 2008 where the India women's team reached the quarterfinals in the Olympics.
Deepika and the India women's team will face the toughest resistance from archery superpowers Korea, who are looking for their eighth consecutive Olympics gold in the sporting event. The India women's archery team is currently ranked fourth in the world, but the 22-year-old Deepika has slipped out of the top 10 rankings on an individual level.
Having said that, the first and foremost thing in the minds of Deepika and her team members will be to forget their poor performance in the 2012 London Olympics, where they were expected to make it big, but were ultimately knocked out pretty early in the tournament.
"We have learnt to control our heartbeat amid tension and control our breathing while shooting," Deepika said just ahead of Rio 2016.
Women's archery event is scheduled to start at 1 p.m. local time (5 p.m. BST, 9.30 p.m. IST) at Sambodromo, Rio de Janeiro, on Aug. 5.
Where to watch live
India: TV: None. Live streaming: Hotstar.
UK: TV: BBC One. Live streaming: None.
USA: TV: NBC Sports. Live streaming: NBC Olympics.