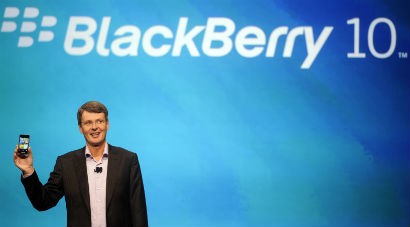 Canadian telecommunications major RIM (Research In Motion) is reportedly launching a brand new touch-screen smartphone BlackBerry Z10 on January 30,2013.
According to Unwired View website, RIM is set to launch its first BlackBerry 10 OS based smartphone Z10 in January 2013 and the handset is reported be a touch-screen smartphone.
The website also reported that the Canadian company is also planning to release QWERTY based smartphone dubbed the BlackBerry X10 later next year.
With the release of Z10 smartphone, RIM is poised to make a strong comeback into the smartphone market which is lead by Samsung and Apple.
According to IDC survey, RIM now holds just 4.3 percent market share compared to 9.6 percent last year. Due to lack of new releases from the company, RIM's revenue has declined over the years.
RIM was one of the pioneers in smartphone revolution in the niche corporate sectors for its secured email features but now the company has lost its sheen to market leaders Samsung and Apple.
Smartphone market leader Samsung holds 31.7 percent market share and its arch rival Apple is placed second with 15 percent of market share in the global smartphone market. RIM finishes at the third position in the smartphone market share list.
RIM's latest mobile OS BlackBerry 10 cleared the US security regulations a few weeks back to market the smartphones in the government run agencies.
RIM later released few key features in the BlackBerry 10 OS which include BlackBerry Flow which allows the user to seamlessly navigate apps in the phone with ease.
BlackBerry Keyboard is automated with adaptability feature, which can sense the users' writing speed and assist users to type faster and accurately.
The new platform also features BlackBerry Balance which keeps personal apps and information separate from work data. This new feature helps the user switch from personal to work profile in a simple gesture.
The new features have evinced interests in the corporate sector but RIM's resurgence and future prospects will be decided by how well the average consumer reacts to the new BlackBerry Z10 smartphone.