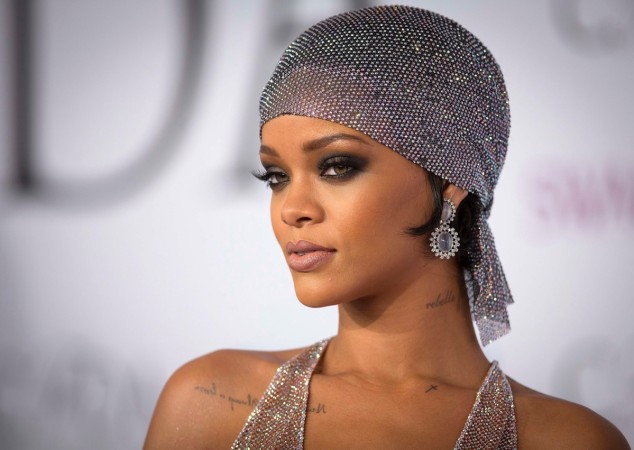 R&B singer Rihanna is in news again for all the wrong reasons, and this time for an ad for her new perfume, Rogue. The poster showing the singer without cloths has been banned after the Advertising Standards Authority ruled it as "sexually suggestive."
Rihanna has appeared nude for the perfume advertisement. She is seen wearing just a pair of shoes with her legs lifted in the air and resting on a giant bottle of her perfume. She tries to protect her modesty with her arms but that was not enough.
The Advertising Standards Authority initiated an enquiry after a complaint was filed, arguing that the photo is sexually offensive, portrays women cheaply and doesn't suit children. The ad was ruled "sexually suggestive" and was banned from places where children could see.
The ban on Rogue ad came just on the heels of hitting the headlines after attending the Council Of Fashion Designers of America Awards (CFDA) in a sheer dress, revealing her assets.
The 26-year-old singer left very little to the imaginations at the CFDA awards on Monday with Adam Selman's creation revealing too much skin, which could be seen as "not appropriate" by many. The designer even told Style.com that the dress, which was just "fishnet and crystals" was meant to be scandalous.
"She's daring, she's bold, and she's not afraid of fashion. She doesn't let fashion overcome her. She embraces it and makes everything she puts on her own. Not many people do that," said Selman.
It was just last month that Rihanna turned heads by appearing at the MET Gala after party in a backless gown that showed lots of skin and side boobs. She was also banned on Instagram a couple of months ago after posting a topless picture of herself on the photo sharing site.
Rihanna is going through a bad phase after breaking up with Drake.
The ex lovers reportedly ended up at a same place but avoided meeting each other. Sources told E! News that they didn't interact despite seeing each other at the Hot 97 Summer Jam after-party on Sunday.
"She looked at him a few times and would smile, but they didn't speak or even come near each other. Both stayed late, until around 4 am, but they did not leave together. Both went their separate ways," said the source.