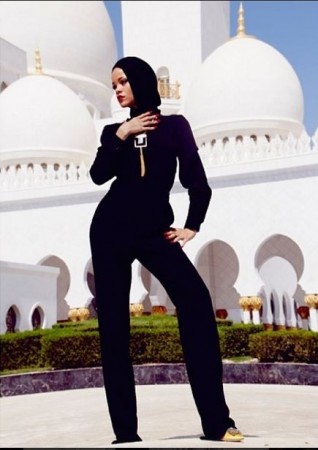 Pop star Rihanna was asked to leave the Sheikh Zayed Grand Mosque in Abu Dhabi, after officials claimed her photo shoot outside the mosque did not "conform to conditions" that protected the sanctity of the holy monument.
Rihanna believes in doing the extraordinary and it came as no surprise when the "Diamonds" singer shared pictures from a photo shoot taken outside the Sheikh Zayed Grand Mosque in Abu Dhabi. The photos were taken after Rihanna finished her concert in the city.
The pictures, shared on Instagram, shows the singer dressed in black, covered from head to toes but pouting seductively as she lay in the mosque's courtyard. Many claim that though Rihanna was fully clothed, her pose was considered "disrespectful" to the mosque.
"The Centre strives to ensure that visitors enter the mosque in a decent fashion, and refrain from behaving in any way that is inconsistent with the sanctity of this religious place," officials of the Sheikh Zayed Grand Mosque Center said in a statement. "In the event of behaviour that violates the moral codes of access to the mosque, or other visit regulations - such as taking inappropriate pictures, posing in ways that are improper in the context of sacred place, talking loudly, or eating - the violators are directed in a polite manner that reflects the civilisational and tolerant attributes of Islam. Usually, the visitors are appreciative of that."
The statement also revealed that Rihanna failed to make prior arrangement and seek permission from the management for the photo shoot and also used the entrance that was not intended for visitors. Despite being directed to the visitors' entrance, Rihanna continued to linger outside and took more photographs. She was then asked to leave when the officials found that the pictures were "not in compliance with the terms of the mosque."