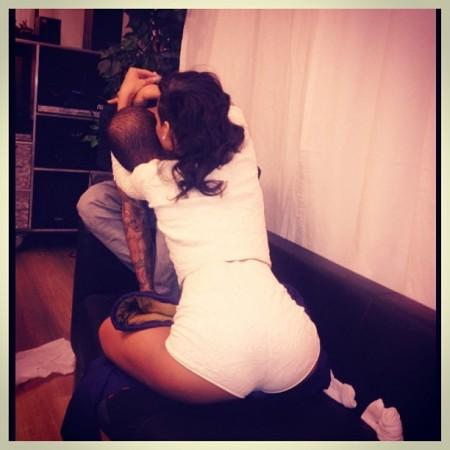 Singer Rihanna seems to be madly in love with her ex boyfriend Chris Brown as she has been showering her love on him of late, and as if to tell the world that she is back with him, she shared a photo of her kissing him on twitter page.
In the photo shared on her Twitter page, Rihanna is seen kissing Chris Brown on his forehead. "fuckyopictures i dont wanna leave!!! Killed it tonight baby!!!" she tweeted along with the photo.
Chris Brown and Rihanna had an ugly breakup in 2009, resulting in the arrest of the former after he pleaded guilty of assaulting the latter at a pre-Grammy Awards party.
Sources said that the 24-year-old "Umbrella" singer was very supportive of Chris while he was touring Europe.
"Rihanna made it all about him and took a back seat, so he could do his thing and let the fans interact with him. She knows he's on tour and the club was packed for him, so she was cool with it," The Sun quoted a source as saying.
The Sun had earlier reported that Rihanna has booked a plush five-star villa on the exclusive Gold Coast area of the tropical island to give Chris Brown a chance to prove to her family that he is a changed man and that she was planning to take Brown's mother too.
The ex-couple sparked off the rumours of a reunion by reportedly kissing at Chris' website launch party last month and spotted together at Halloween party.
It may be recalled that Chris Brown was arrested in 2009 for assaulting his then girlfriend Rihanna at a pre-Grammy Awards party. He will remain on probation until early next year for the assault.