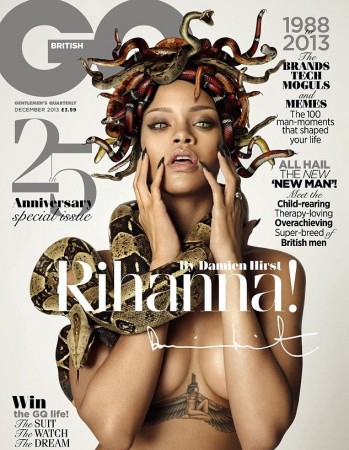 Rihanna showed off her tattoos in a topless picture for the cover of British GQ, posing as Medusa.
It's no secret that Rihanna is not afraid to bear it all and go nude, if the situation demands. However, her recent photo shoot for GQ also revealed that the singer is not afraid of snakes too.
For the cover of the magazine's 25th anniversary issue, Rihanna posed topless as Medusa. In the picture, a handful of snakes were placed on her head, while a large reptile was wrapped around her neck.
The provocative photo shoot was directed by Damien Hirst and shot by Mariano Vivanco. Ahead of the issue's release, Rihanna took to her Instagram account to share pictures from the shoot.
"Medusa head on me like I'm 'luminati!!!! She. x Damien Hirst #GQ #25thAnniversary #COVER," she captioned one picture.
She posted another picture from the shoot and captioned it, "I love playing with dominant animals! These 2 were double the trouble, but they're superstars!!! #snakez #GQ #RiRi #88babies #25thanniversary."
This is not the first time Rihanna's Instagram posts have got the attention of many. Earlier last month, the "Diamond" singer found herself in hot waters when she shared pictures from a photo shoot that revealed the singer posing inappropriately in front of the Sheikh Zayed Grand Mosque in Abu Dhabi. The photos were taken after Rihanna finished her concert in the city.
Officials of the mosque felt the pictures were "disrespectful" and did not "conform to conditions" that preserve the sanctity of the holy building. What angered the officials even more was the fact that the actress failed to seek permission and make prior arrangements to hold the photo shoot at the mosque.