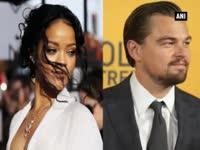 Rihanna clearly hasn't gotten over Leonardo DiCaprio. At least, that's what some reports claim. Apparently, after taking a break from hooking up with the actor, the "Under My Umbrella" singer went back running to him, and this reunion sparked rumours about the duo dating.
But the latest buzz is that sources close to the singer have slammed the rumours, calling them "dumb" and "untrue".
Leo and RiRi have never officially confirmed their relationship, but have constantly been in the news for their off-and-on hook-ups. According to In Touch, the duo rekindled their romance when Rihanna went running back to the actor shortly after Coachella.
The tabloid's source claimed that the "Diamonds" singer is still really into the "Inception" star, and has no option but to go back to him after failing to reconnect with her former exes [Drake and Chris Brown] during the music festival.
"Leo doesn't care [if she sees other people]. He just wants to have fun with her without any strings attached," the source said.
"Right now, they pretty much just hook up and go to each other's houses late at night, but Rihanna's holding out hope that Leo will eventually commit. She's obsessed," the source added.
But despite these rumours and reports, a source close to the Barbadian beauty has confirmed that the two stars are not romantically involved. "Despite DiCaprio and Rihanna's close friendship, with the "Titanic" actor even throwing the singer a lavish birthday party in February, the duo were not and are still not in a relationship," reported Fashion & Style.
Now, whether the singer and actor will ever date, we don't know. But it looks like RiRi will have to wait, as "The Wolf of Wall Street" actor is busy looking for love on Tinder. "He hasn't been on any dates – yet – but is obsessed with swiping on girls and seeing who's out there," a source told Star magazine.