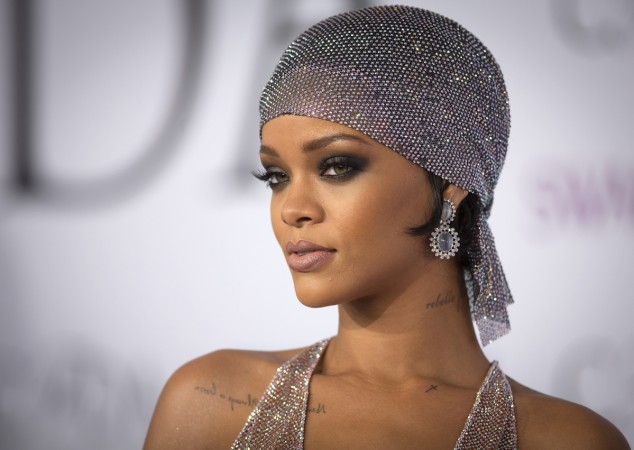 Rihanna has sparked pregnancy rumours. A new report suggests that the singer has a bun in the oven and she is even writing a song about it.
Mediatakeout claims that they have spoken to two sources, who have confirmed news of RiRi's pregnancy.
"The song is a ballad, where Rihanna talks about the baby growing inside her," said one source. Moreover, the singer is said to have set a no-smoking rule in the studio, as she wants to have a happy and healthy pregnancy.
It has been further reported that the "Diamonds" hit maker found out about her pregnancy recently. Rihanna has always had soft corner for kids. On many occasions she has taken to social media to post adorable pictures with her niece. Though there is no confirmation to the news, speculations are rife that Drake could be the father, as he was the last person RiRi reportedly dated. However, their break-up reports ensued in May, so the possibility of the rapper being the father of Riri's child seems unlikely.
Interestingly, this is not the first time the singer has faced pregnancy rumours. In April, Mediatakeout had said that Rihanna is pregnant with Drake's child. At that time, it was also said that the singer has given up smoking and alcohol. She was even photographed drinking decaffeinated coffee, which had added to the rumours. But they turned out to be false.
Rihanna is currently busy with her new album called "R8." She recently shared a clip of a new track on her Instagram account. She captioned the video as "phuck wit nuno."
Meanwhile, Rihanna's ex Chris Brown recently announced his split with Karrueche Tran. The singer said, during his performance at stage performance Power 106 annual Cali Christmas concert, that he is single.
"How many single ladies we got in here tonight? Well, I'm single, too," he said.
After announcing his split, he has been linked to Rihanna and Kendall Jenner. He was pictured with Jenner sitting in his lap. The "KUWTK" star and the model reportedly posed with the singer after his Cali Christmas performance, according to Inquisitr.