Rihanna is known for her sense of fashion, and she proved it again by showing off her incredible curves in a revealing outfit that gave her fans an eyeful.
RiRi donned a pink Puma track suit for the after party of Fenty New York Fashion Week (NYFW) on Sunday, September 10. She accompanied the dress with a skimpy blue sports bra that has a contrast colour zipper attached to it, and a matching mesh bikini bottom.
The Barbadian singer showed off her eye-popping curves and flashed her ample assets by wearing her top off the shoulder. She also displayed her svelte hips in the mesh-layered inner-wear and exhibited her toned legs in pants with thigh-high slit.
Also read Rihanna is still a virgin at her 'Utopia'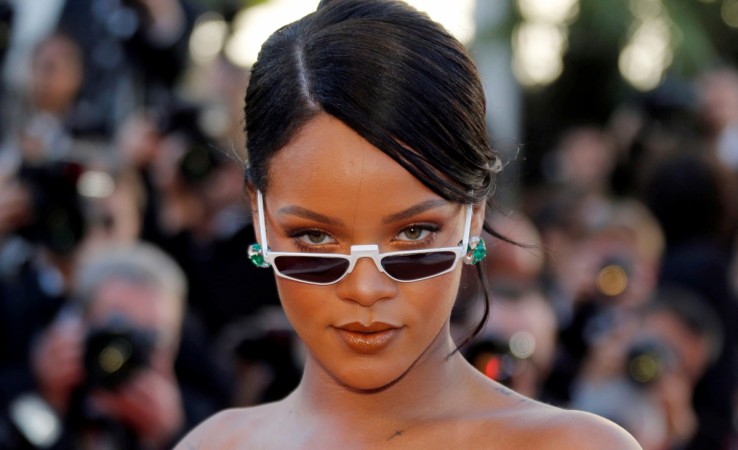 The Umbrella singer paired the sizzling dress with matching heeled boots and accessorised it with a simple silver chain necklace. She kept her hairs tied up in a bun with a neon string, reported Mail Online.
When she turned her attention from music to fashion by showing off her new Fenty x Puma collection at NYFW on Sunday, Rihanna captured all the attention by wearing a plunging green sports jumper, which was accompanied with a pair of stiletto boots.
The former girlfriend of Chris Brown was really excited about the fashion event and she shared her excitement with her 56.5 million Instagram followers.
Apart from sharing promotional image of the show, the songtress also shared a photo of her nail art.
The latest social media post of RiRi was accompanied by the words: "When yo nailz and yo invitation match. #FENTYXPUMA. I'm going live tonight so y'all could show up uninvited af. [sic]"
Meanwhile, there is buzz about the Barbadian singer's split with her rumoured boyfriend Hassan Jameel and a reunion with Canadian rapper Drake.
"Rihanna feels like she left things up in the air with Drake and she can't get over their explosive chemistry," a source said.