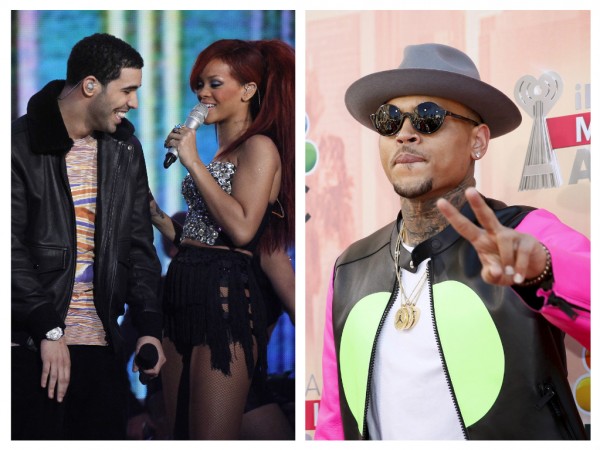 Rihanna has always got away with her "I don't care" attitude confidently. But this time, it looks like our "Bad Girl" is in her worst state of mind. Not only did she back out of her Grammys performance, but also announced that she's postponing her tour. And guess who is manning up to take the responsibility for the "Diamonds" singer's recent melt down? Well, it's not Chris Brown, but rapper Drake.
Riri is known to be a performer, a professional, no matter the turmoil in her personal life. But that can't be said this time when she has cancelled on two major events back-to-back. The pop princess has always been least bothered about dating rumours and men that she has been linked with, but the latest reports suggest that her recent outing with Drake has left her at her worst.
According to Hollywood Life, "The Hotline Bling" singer is on a guilt trip and blames himself for the "American Oxygen" singer's emotional meltdown. The report said that Riri has hit rock bottom because the rapper couldn't commit to her romantically.
"He feels it's partly his fault she's moody. He was flirting with her the entire time they shot "Work," knowing all along she wanted something serious, like a commitment, but he couldn't give it to her," a source said.
"She was emotional during parts of the shoot, yelling at him from time to time, calling him names and downright angry at him. He feels his player behaviour has contributed to Rihanna's meltdown. He feels bad, yes, but he still isn't trying to settle down with her or anyone anytime soon," the source added.
The report said further that the rapper is making desperate attempts to reach out to Rihanna and apologise, but it has got him nowhere. "He's called and texted her several times, telling her to hang in there and offering his services by joining her on her tour to help boost excitement, but she has not responded. Drake's never known her to be this way," the source said.
Now, we don't know if Drake is the actual reason behind Rihanna's recent meltdown, but some fans also think it could partly be because her new album flopped.