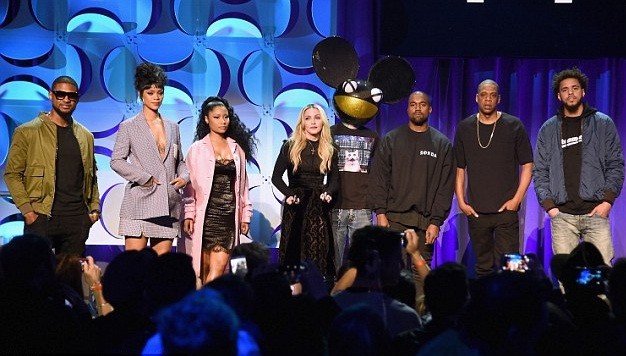 Even $1bn seems insufficient for music icons Rihanna, Alicia, Madonna and Beyonce as they are looking to earn more from their fans. Recently, they took to stage to convince the world that they should join "Tidal", a music streaming service that allows public to listen to their favourite songs on the internet, by paying a monthly charge of £9.99. This move will guarantee bigger payments to a few musicians.
The music streaming service is the brainchild of rapper Jay Z, 45, who along with his wife Beyoncé, 33, is worth almost $1billion. Streaming enables fans to listen to songs or watch music videos online, without having to buy or download them permanently on their computers. Singer Alicia Keys said that she hopes Tidal will "forever change the course of music history," adding: "Our intent is to preserve music's importance in our lives".
But despite being backed by superstars, Tidal was the most talked about topic on Twitter on Tuesday, with thousands branding it as "greedy", "out of touch", "cynical" and "money grabbing".
One fan tweeted: "I legit thought #TIDALforALL was some sort of save the world campaign, not a streaming service to make millionaire artists richer," whereas another wrote: "I'm still mad about #TIDALforALL! Those 'artists' are filthy, money grabbing, selfish, disgusting human beings! It makes me mad..."
Many of the world's leading musicians have already turned against such deals. Taylor Swift had pulled all her music off Spotify last year. "Music should not be free, and my prediction is that individual artists and their labels will someday decide what an album's price point is. I hope they don't underestimate themselves or undervalue their art," the 25-year-old pop star wrote at the time. In 2012, British newcomer Ed Sheeran had tweeted: "Eternal love for anyone that owns a copy of '+' [the name of his first album], however you got hold of it, legal or illegal, thank you for enjoying it".