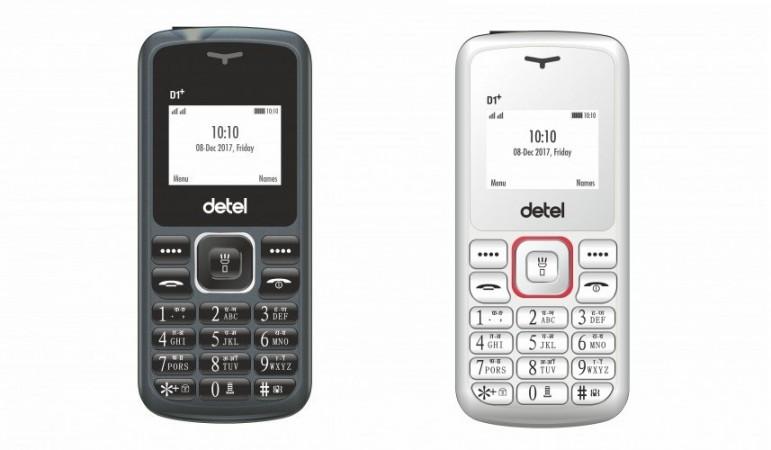 If you are out looking for a secondary phone, there are some popular options such as JioPhone, Nokia 3310 and others. But if you are looking for a phone that's light on your pocket (financially too), we've got just the thing.
Detel, a mobile phone maker, launched its latest feature phone in India, Detel D1+, at an unbelievably low price of just Rs 399. If you're expecting any frills attached to this price, you'll be thrilled to know that it's the maker's price and not associated to any offers or cashbacks from telcos.
If ever you crossed paths with Detel mobiles, you'll know the brand is closely associated with ultra-cheap phones. In fact, Detel D1+ predecessor – the D1 smartphone – was launched in India for a competitive price of just Rs 349. The slight increase in the price of the D1+ is mainly to justify the improvements that come with it.
Detel D1+ packs series of features that are essential in a feature phone. It has a 1.44-inch TFT display with T9 physical keyboard, a 3D speaker for entertainment, GPRS web browser and a large flashlight on top. Under the hood, the phone packs a 650mAh battery, which has fast charging support and has power saving mode for extended battery life.
The handset also sports a microSD card slot, FM and FM recording function, and dual SIM card support, but naturally lacks 4G or 3G bandwidths. Detel D1+ comes in 7 colours, and it is available exclusively on B2Badda.com.
As of this writing, the product listing for each colour showed that there are only 50 units left. It's unclear if Detel will restock the D1+, but for now, buyers can place the order and get the phone within promised delivery time.
"We are glad to bring to our customers a feature phone that is not only economical & affordable but also caters to a lot more needs of the feature phone buyers in India. India is a price sensitive market and the consumers especially in tier- 2, 3 markets, and in rural areas are cautious about their spending behaviour. While urban population is increasingly growing tech-savvy, consumers from small towns and rural areas are still only marginally exposed to the technological advancements of the world," Yogesh Bhatia, MD, S. G. Corporate Mobility (parent company of Detel), said in a statement.