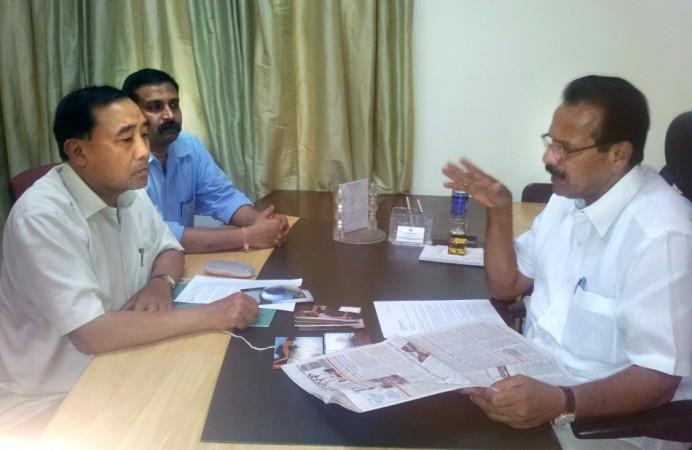 "Richard Loitam's murder case is a wake-up call," said former Minister of Manipur and State CPI leader, M Nara Singh after meeting Karnataka Chief Minister DV Sadananda Gowda in Bangalore on Tuesday.
"The unfortunate death of Manipuri student is a wakeup call for everyone. This is the time we do away with all the differences and unite. North East and others who live in various parts of India should know each other and should live in harmony," Nara stated.
He added that students from different states were guests and should be treated like one.
Nara urged the Gowda to expedite the investigation into the Loitam murder case and drag the perpetrators to the justice soon.
He said, "Misinformation provided by the institution created havoc in the nation."
He alleged that "it was a prima facie case of a murder and institution is trying to conceal the facts."
"Mr Gowda was very sympathetic and agreed it was a case of murder. His response was positive on my request. And promised that he would expedite the process calling the review of the event," he told IBTimes, when asked about his meeting with Gowda.
Nara said that the Karnataka CM assured that two of alleged culprits would be taken into custody soon.
Meanwhile, he rubbished a few media reports that Richard died because of over abuse of drug, saying "all these charges and news were fabricated."
Nara will be meeting the representatives of different organizations from Manipur and discuss on problem faced by the North East student in main cities.
Meanwhile, Nara informed that Karnataka CM Gowda would meet the students from North East and engage in the discussion over the ill-treatment being meted out to them and the ways to prevent Loitam's death kind of unfortunate incidents in future.
Loitam Richard, 19, from Manipur died in Bangalore on April 17 night after allegedly beaten by two of his hostel mates. Richard was an Architecture Engineering first year student of the Acharya NRV School of Architecture, Bangalore.
(WIth Input From W Rorrkychand Singh)