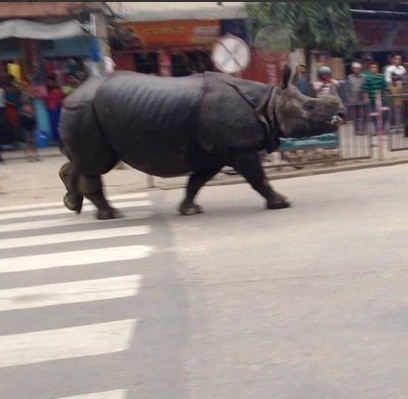 A rhinoceros went on a rampage in a market place in Nepal's Makwanpur district on Monday, chasing after vehicles and killing one woman.
The large animal reportedly escaped from the Chitwan National Park and entered Nepal's Hetauda city, causing panic among residents.
Videos of the rhino going on a rampage were shared on social media.
At least six people were reportedly left injured and a woman was killed, according to News 24.
Photos of security personnel attempting to tranquilise the rhino also emerged online.
Chaos! Rhino on the Run reported kills 1, injures 3 in Hetauda! Video by Kishan Paudel via @Sahadevision pic.twitter.com/bBdebrGVOI

— Ujjwal Acharya (@UjjwalAcharya) March 30, 2015
More photos from Twitter of Rhino in Hetauda Pics: Ardy Bajracharya via @lexlimbu, @nepal2006 & @janakdangol pic.twitter.com/7cFCNk761W — Ujjwal Acharya (@UjjwalAcharya) March 30, 2015
Rhino on the streets in Hetauda. Must have come to visit the bazaar. #Nepal #Rhino pic.twitter.com/tV0WCe0U0a

— lexlimbu (@lexlimbu) March 30, 2015