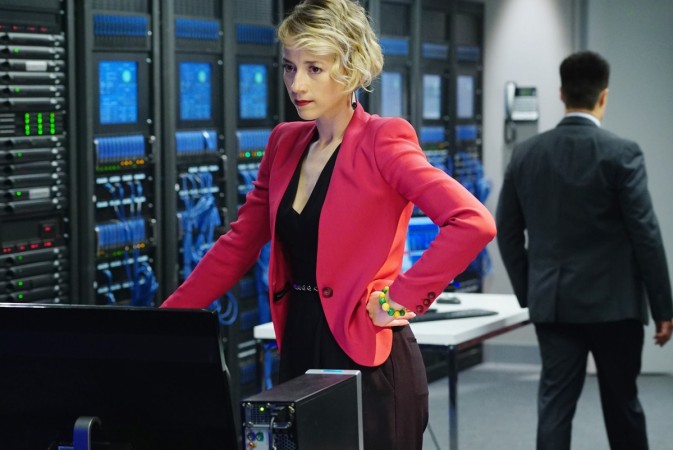 Margaux LeMarchal's (Karine Vanasse) retaliation on Emily Thorne/Amanda Clarke (Emily VanCamp) will take centre stage in "Revenge" season 4 episode 17 titled "Loss".
The businesswoman might have succeeded in her mission to trap Jack Porter (Nick Wechsler) in episode 16 titled "Retaliation" but she may have to face dire consequences for it in the upcoming episode.
The trailer and official synopsis of ABC drama suggests that Emily will fight to clear Jack's name in and out of court even by taking a wrong path as she tells David Clarke (James Tupper) in the sneak peek video, "I'm done seeing terrible things happen to my friends."
Though David tries to make her understand that hurting someone is not the right way to deal with problems, Emily does not back down from her decision. So viewers can expect to watch their favourite character going out of the way in episode 17.
However, the 30-second-long clip ends with a cliffhanger showing Margaux being hit by a taxi. But "Revenge" fans cannot assume that Emily is behind the accident since she is seen shocked after watching the incident.
Meanwhile, newlyweds Nolan Ross (Gabriel Mann) and Louise Ellis-Ross (Elena Satine) receive a visit from Officer Ben Hunter (Brian Hallisay) and the trailer indicates that he is not bringing good news for them. Does this indicate that episode 17 will focus on Lyman's (Sebastian Pigott) "Loss"? Viewers of the ABC drama will have wait for a week to know more about it.
On the other hand, Victoria Grayson (Madeleine Stowe) will have to deal with a new challenge after Conrad Grayson's (Henry Czerny) first wife Stevie Grayson (Gail O'Grady) returns from the rehabilitation centre.
ABC will air "Revenge" season 4 episode 17 titled "Loss" on Sunday, 22 March, at 10pm.