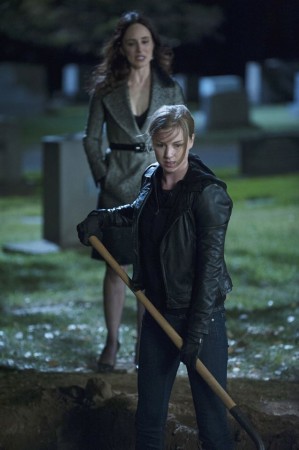 Emily Thorne aka Amanda Clarke's (Emily VanCamp) retaliation takes its final stage on ABC's prime time series "Revenge" season 4 finale titled "Two Graves", which is scheduled to telecast on Sunday, 10 May, at 10pm.
While the protagonist, her father David Clarke (James Tupper), childhood friend Jack Porter (Nick Wechsler) and wealthy ally Nolan Ross (Gabriel Mann) are likely to get their happy ending, Victoria Grayson (Madeleine Stowe), Margaux LeMarchal (Karine Vanasse) and Louise Ellis-Ross (Elena Satine) may have to pay for their evil doings.
Earlier, executive producer Sunil Nayar had talked about a happy ending for VanCamp's character as he stated that she will "just walk away feeling perfect about everything". Recently, he even teased an epic emotional finale with shocking moments.
"It's a tricky thing because the fans are such passionate lovers of the show and we really want to give them what they want, but the hard part about a finale in a show like this is you want to give them some of what they want, some of what they don't know they want yet and some of what they never expected, and it needs to be a perfect mix of all those things. I truly believe our finale is the perfect mix of all those three things," he told Entertainment Weekly.
Meanwhile, the official synopsis states that Porter's childhood friend will be forced to admit her guilt, but she'll have to decide how far she'll go before admitting defeat. So it can be assumed that the two powerful enemies of David's daughter could fall victim of her retaliation in episode 23.
However, there is a buzz that the title hints on the death of the protagonist and her father and it remains to be seen who could finally meet their happy ending towards the end of the series.
In the meantime, "Revenge" fans can watch season 4 episode 22 titled "Plea" on ABC this Sunday, 3 May, at 10 pm, which will be live streamed here.
Related
'Revenge' Season 4 Episode 22: 'Plea' to Focus on Emily Throne aka Amanda Clarke's Future
'Revenge' Cancelled after 4 Seasons: EP Talks Series Finale and Rumoured Spinoff 'Kingmakers'
'Revenge' Shocking Truth: What Do Emily VanCamp, Gabriel Mann and Others Have to Say on Show Ending after Season 4 Finale?
'Once Upon a Time' Season 4 Episode 21: 'Mother' to Focus on Lily-Emma Relationship [SPOILERS]