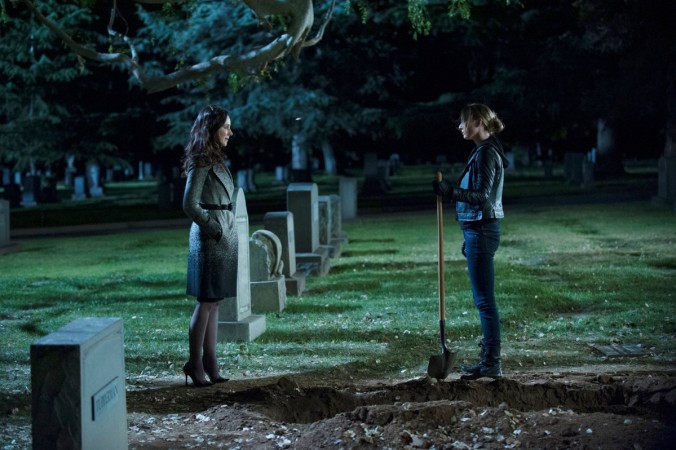 The cast and crew of "Revenge" Season 4 are all set to take viewers through an emotional roller coaster, with at least two deaths towards the end of episode 23, titled "Two Graves", which is scheduled to telecast on ABC this Sunday, 10 May, at 10 pm.
The trailer indicates that either of the two lead female characters in the prime-time series, Emily Thorne aka Amanda Clarke's (Emily VanCamp) and Victoria Grayson (Madeleine Stowe), could be in graves by the end of the crime series that will be live streamed here.
But, showrunner Sunil Nayar has different names in his list as he mentioned a few during an interview with E!Online. "I feel like Jack has always been in peril, both emotionally and physically, due to his love for Emily. I think that people should've have a legitimate concern for Jack, people should have a legitimate concern for Nolan, both of them are put in harm's way or put themselves in harm's way in the episode," he said.
Meanwhile, Nayar did not forget to mention the names of Margaux LeMarchal (Karine Vanasse) and Louise Ellis-Ross (Elena Satine) as he said "everybody is in peril".
"I love the characters of Margaux and Louise, and obviously, they skewed to the dark side, but even their journeys will end in a way where the audience will understand who they are as human beings," he teased.
In the meantime, the creator promised that the show will end up with a shocking revelation. "Every single character got a resolution that is emotionally satisfying, story-wise satisfying, and often times really surprising," he added.
However, Porter's name can be deleted from the list as actor Nick Wechsler teased a happy ending for the protagonist and her childhood friend. "You will get some traction on Jack and Emily. It feels like a good way to end," he told Wrap.
Another character who could end up in grave towards the finale is David Clarke (James Tupper) because there are chances of him sacrificing his life for daughter Amanda.
In order to know more about Revenge" Season 4 finale, titled "Two Graves", fans will have to tune in to ABC on Sunday, 10 May, at 10 pm.