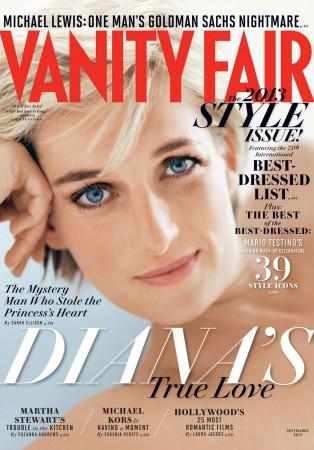 At a time when the world is obsessed over the arrival of Prince William and Kate Middleton's royal baby Prince George, controversies regarding his grandmother - the late Princess Diana, are far from over.
Star cricketer Imran Khan's former British wife Jemima Khan recently made a sensational revelation to Vanity Fair magazine that the late princess was dearly in love with surgeon Hasnat Khan and wanted to marry him, even accepting the possibility of settling down in Pakistan.
In the magazines article titled "The Grandmother Prince George Never Knew", Jemima told editor Sarah Ellison, "Diana was madly in love with Hasnat Khan and wanted to marry him, even if that meant living in Pakistan."
Diana was determined in taking the affair to the next level, Jemima confirmed. The princess was quite inquisitive of the lifestyle in the country.
"She wanted to know how hard it had been for me to adapt to life in Pakistan and she wanted advice on how to deal with Pakistani men and their cultural baggage."
The article also mentioned that Diana went to Pakistan twice for the same reason.
"(She) came to visit me twice in Pakistan to help fundraise for Imran's hospital, but both times she also went to meet his family secretly to discuss the possibility of marriage to Hasnat," said the former cricketer's wife.
She added that since Hasnat was Imran's distant cousin, she and Diana became close friends speaking on the issue of marriage.
However, for the British royal to get married into a Pashtun family was a difficult task as it is generally unacceptable in the Pashtun culture to wed an English woman. Diana had even met Hasnat's mother Naheed regarding marriage.
Apart from family disapproval, it is believed that Hasnat was hesitant of taking the big step as he "hated the thought of being in the glare of publicity for the rest of his life."
According to the princess' friend, "Hasnat was a decent, intensely private man from a traditional, conservative Pakistani family, and he was worried about how it would work."
And as it was, the couple eventually broke up and Diana began seeing Egyptian billionaire Dodi Al Fayed.
However, friends of the late princess have claimed that the relationship with Fayed was her attempt at making Hasnat jealous after his refusal to marry her.
This tumultuous phase of Diana's life in the last two years of her life has been picturised in the upcoming film "Diana" played by Naomi Watts.
Hasnat, who is known to be very private, had dodged all questions and refused to co-operate with the film's makers about his two-year-old relationship with Diana.