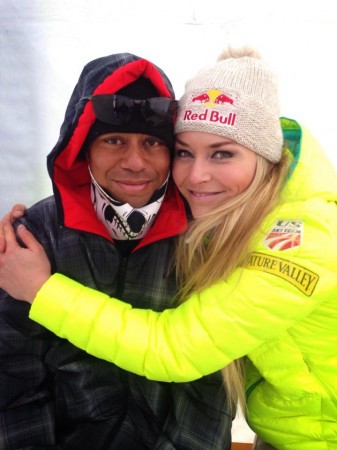 Tiger Woods and Lindsey Vonn announced their break-up on Facebook earlier this month. And post the announcement, reports of the golf star having cheated on Vonn started doing the rounds. It was more like a flashback of Woods' high-profile sex scandal while he was married to ex-wife Elin Nordegren.
Woods and Vonn, who began dating back in March 2013, announced in a joint statement on social media that they were parting ways. It was reported that the golf legend allegedly cheated on the Olympic skier. Tiger's alleged indiscretion happened in February after he withdrew from the Farmer's Insurance Classic in San Diego, claimed reports.
"Yes, Tiger cheated again. But it wasn't with anyone special. He really wanted Lindsey to be the one. But he blew it again," stated a source.
Tiger is said to have confessed to Lindsey about his sexual encounter during a therapy session.
But sources close to Woods told People that infidelity wasn't the real reason behind their split.
"I know everyone is hoping for a cheating scandal, but it's not," says a member of Woods' circle. "There was no real drama."
The sources insisted that the two of them called it quits because the relationship didn't work out. "This was just a relationship that didn't last. They moved apart," the source added.
Besides, Hollywood Life has reported that the couple ended their relationship after the four-time Masters champion confessed that he didn't want to marry and walk down the aisle again after his divorce from Elin.
"Tiger didn't cheat on Lindsey, their relationship simply had nowhere to go. After his divorce from Elin (Nordegren), he doesn't have the same appetite for marriage anymore. They got to a point, where after dating for a few years, they had to decide where the relationship was going to go," a source said.
The decision to part ways was mutual.
"With Tiger's stance on marriage being a no-go, Lindsey felt that it was time for the relationship to come to a natural end. There's no animosity between the two, nor was there any infidelity. It was an amicable split without any drama," the source added.