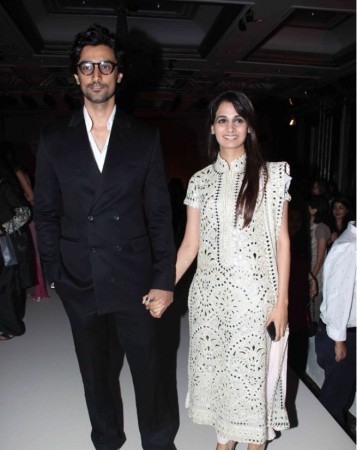 Kunal Kapoor tied the knot with his fiancee Naina Bachchan in a private ceremony on 9 February.
The couple, who were introduced by Naina's cousin Shweta Nanda Bachchan, dated for over two years, before they got engaged last year.
And for wedding destination, they opted for a beach wedding in scenic island in Seychelles, Africa, away from the preying eyes of the media.
The wedding was a private affair and was attended by the couple's close friend and family, who were present to bless them on their special day.
Reportedly, Kapoor and Naina will be hosting a reception in the national capital soon.
Naina, is an investment banker by profession and is the niece of Amitabh Bachchan and daughter of Ajitabh Bachchan and Ramola Bachchan.
Ever since, Kunal and Naina got engaged, the duo have been often spotted together at events and parties. If reports are to be believed, she recently shifted her base to Mumbai to stay close to Kapoor.
And, now the first picture of newly married couple has surfaced in the internet, where both Kapoor and Naina are seen extremely happy and adorable.
The "Rang De Basanti" actor took to Twitter to thank his fans for the warm wishes poured on him and his wife along with a picture of their beautiful beach wedding.
Thank you for all your warm wishes on our wedding! pic.twitter.com/RPhgTOYpEv

— kunal kapoor (@kapoorkkunal) February 10, 2015