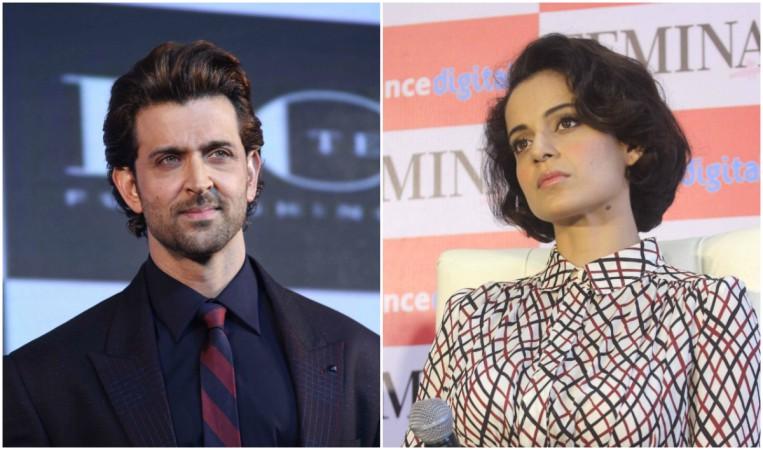 Much before the legal notice nastiness took centre-stage, Hrithik Roshan and Kangana Ranaut were an everyday couple who had hoped for a happy future together. The rumoured affair was apparently an on and off one, and was in tatters by the end of its second year.
In a tell-all chat with Mumbai Mirror, a close friend of the actress revealed crucial details from the Hrithik-Kangana affair timeline. She said the superstar wanted to marry her and thus proposed to her in Paris (January 2014) assuring it wasn't out of a rebound (he had announced split with his then wife Sussanne Khan in December 2013) and that he felt a "strong connection" with her ever since they met.
It was on the sets of "Kites" (2009) that Hrithik and Kangana got together wanting to soothe frayed nerves. While the "Kaabil" actor was dealing with his troubled marriage, the latter had issues of her own. The friendship changed colors after he pursued Kangana for six months to get her on board "Krrish 3."
"That's when they got into a relationship after he confided in her that he and his wife (Sussanne) slept in separate bedrooms. However, Kangana could never talk about the relationship openly as Hrithik had told her categorically that he would never divorce Sussanne," the friend further elaborated.
But the situation was turned on its head when he called her up (December 2013) to break the news that he was calling time on his marriage with Sussanne. The happiness didn't last for long as he quit communicating with her abruptly and later asked if she had informed people about them being an item.
"When Kangana told him that she had informed her family about it, he said that she had misunderstood his intentions," the friend added.
The situation spiralled out of control when Hrithik questioned her decision to see another "young superstar." She was surprised that he was aware of it and later suspected that the 42-year-old may have hacked into her email inbox. This ruffled feathers, after which she asked Hrithik's father, Rakesh Roshan, to keep a check on his son else he may land in trouble.
Despite the madness, the two got back together but this time she was spied and kept a tab on. Although she wanted to date a man who wasn't as encumbered as Hrithik, she was extremely (emotionally) attached to him. Also, the charming actor wouldn't let her go.
"She wants to move on, maybe she can find happiness with someone else. He thought he could intimidate her with his legal notice, get her to make a public apology. But apology for what? What did she do wrong?," the friend asked.