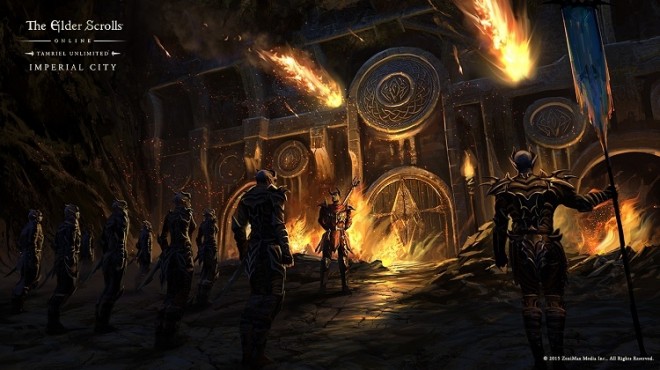 Bethesda has reportedly announced the brand Imperial City DLC, the first major add-on for the company's very popular The Elders Scrolls Online: Tamriel Unlimited.
As revealed, the add-on for the game will arrive for PC and Mac on 31 August, for Xbox One on 15 September and for PlayStation 4 on 16 September. Apart from this, anyone with an active ESO Plus subscription will be open to extra content for free. Alternatively though, it will cost 2,500 Crowns via the in-game store.
"Located at the heart of the Cyrodiilic Empire, the Imperial City has fallen into ruin, claimed by Molag Bal's forces. It is comprised of six Imperial Districts, the extensive Imperial Sewers network, and the White-Gold Tower at its center," the official description for the DLC states.
"The dangers of Imperial City and the Sewers below are best suited for small groups of adventurers, but highly skilled warriors have been known to strike out on their own. While exploring and fighting your way through the Imperial City, be prepared to face not only Molag Bal's forces, but also enemy players from the opposing alliances."
For the new DLC, six new imperial districts will be included, with additional dungeons, quests, enemies, characters, a new currency for Veteran Rank 16 weapons and an armoury of new weapons.
You can check out the newly-released trailer for the same below.
Stay tuned for more updates!
[Source: Eurogamer, Elder Scrolls Online Official]