Reunited Worlds, the SBS romantic fantasy drama that is also known as Into The World Again, will be back with episodes 29 and 30 next Wednesday, September 6, at 10pm KST. These episodes will probably focus on Yoon Mi Na.
Cha Tae Hoon's mother knows something about the mysterious murder case of a high school student named Yang Kyung Chul. But she is not willing to share it with detective Shin Ho Bang or any other person from the investigation team. Is it because she killed him?
As of now, Chairman Cha Kwon Pyo does not seem to known about the killer. But the biggest question that is revolving around the viewers' minds is about his relationship with Sung Young Joon. If he is not involved in the murder then why did he financially help Sung Hae Sung's brother?
Also read The King Loves episodes 29, 30 preview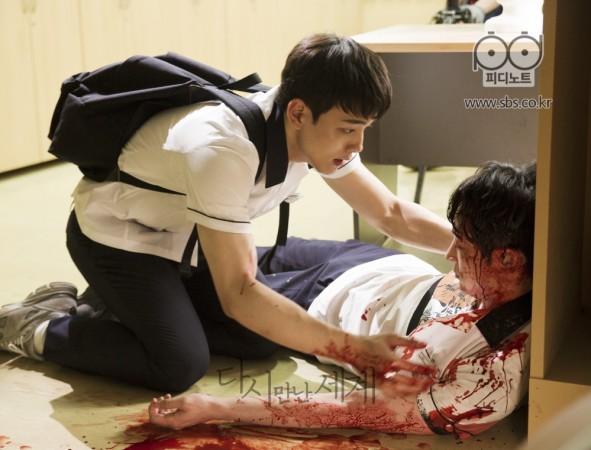 If fan theories are to be believed, the chairman is secretly helping the killer. According to an interesting fan theory, Cha Tae Hoon's father is secretly helping his wife without letting her know about it.
Check out the fan theory that suggests the involvement of Yoon Mi Na in Yang Kyung Chul's death below:
I still can't guess who the real killer is. But it might be either the student with a cast or the high possibility with Tae Hoon's mother.

She might be the reason Tae Hoon's father (Chairman Cha) is hiding something by supporting Young Jun (Hae Sung's brother) in his studies. Young Jun might be the witness of the murder of the student.

Meanwhile, Tae Hoon's father might have kept it a secret from Tae Hoon's mother that he knew she's the killer & he might also have witnessed the murder while seeing Young Jun as the 1st witness from the back.

The art teacher was there too. So, Tae Hoon's mother thought the only witness was the art teacher (Ms. Hyun). Therefore, it might explain why she bought the painting for the art teacher.
Korean drama lovers will have to wait until next Wednesday to know more about the onscreen couple since SBS is yet to release the trailer and promotional photos for episodes 29 and 30. In the meantime, you can watch the first 28 episodes online here.