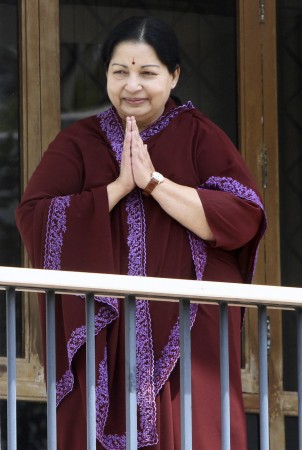 Tamil Nadu Chief Minister J Jayalalithaa has stated that India should retrieve the Katchatheevu island from Sri Lanka to ensure the safety and security of Indian fishermen and their livelihood in the waters of Palk Bay.
The CM has written to Prime Minister Narendra Modi and sought his intervention in releasing 37 fishermen and their boats from Sri Lanka's custody immediately.
Katchatheevu was ceded to Sri Lanka by India in 1974 but the Indo-Sri Lankan agreements in 1974 and 1976 allow Indian fishermen to fish around the island and also to dry their nets there.
Terming the agreement, which ceded the island to Sri Lanka as "ill-advised", Jayalalithaa stated that the matter cannot be treated as a settled issue.
Citing the arrest of 20 fishermen by the Sri Lankan Navy on 5 July, the Tamil Nadu Chief Minister told the Prime Minister that Sri Lanka is continuously breaking the Indo-Lankan bilateral agreement by arresting Indian fishermen. The Indian fishermen have the historical and traditional right to fish in the Palk Bay waters, she stated, citing the bilateral agreement.
"The historical rights were simply signed away as part of the ill advised Indo-Sri Lankan agreements of 1974 and 1976 which also unilaterally ceded Katchatheevu to Sri Lanka without having any foresight or concern for the plight of our innocent fishermen," PTI quoted Jayalalithaa.
The Tamil Nadu government has also filed a writ petition in the Supreme Court of India.
"As I have already pointed out, the validity of these agreements is the subject matter of a writ petition pending in the Supreme Court of India. In this context, the Government of Tamil Nadu continues to reiterate that the issue of the International Maritime Boundary Line and Katchatheevu cannot be treated as a settled issue," Jayalalithaa stated in her letter to the Prime Minister, dated 6 July.
The Tamil Nadu CM also urged Modi to impress upon Colombo to 'rein in' its Navy, who frequently arrest Indian fishermen. Jayalalithaa said Sri Lanka must refrain from apprehending 'innocent' fishermen from Tamil Nadu/India, who are in peaceful pursuit of their livelihood in the traditional fishing waters.
She urged the Centre for a permanent and pragmatic solution to fishermen's issues in Palk Bay. The CM also requested Modi to immediately intervene and secure the release of 37 fishermen from the Lankan authorities, including those held on Saturday, along with 45 boats.
The letter stated that Katchatheevu island was ceded to Sri Lanka, in violation to the court under the 1974 and 1976 agreements, without the approval of the two Houses of Indian Parliament.