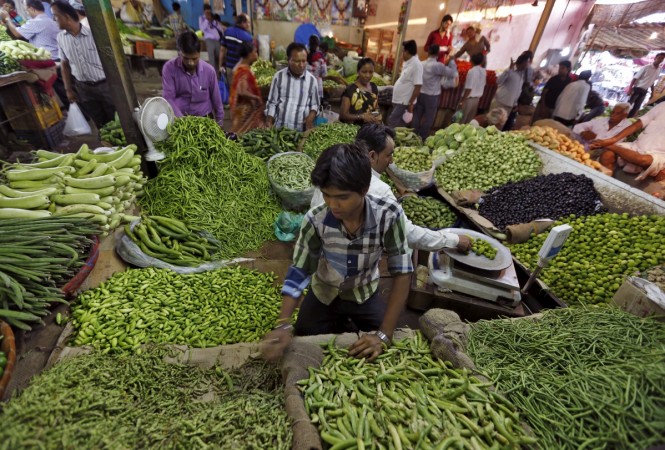 Retail inflation is expected to ease to 5.6 percent in June from May's almost-two-year high of 5.76 percent, while factory output numbers for May could reveal persisting weakness in manufacturing activity in India, according to an economist.
"June CPI inflation...is expected to marginally ease to 5.6% YoY from May's 5.8% but a shade above Jan-May average of 5.4%. Food prices are likely to account for bulk of the pick-up, consisting of perishables (vegetables etc.) and non-perishables (esp sugar and related products)," Radhika Rao, economist, group research at DBS Bank, said in a note on Monday.
The government is expected to declare June retail inflation data, along with factory output (IIP) figures, on Tuesday.
Retail inflation spiked to 5.76 percent in May mainly due to a spurt in food prices that rose to 7.55 percent on account of a sharp increase in prices of pulses, sugar and vegetables.
On the positive side, food prices are likely to fall in the second half of calendar 2016 thanks to a good monsoon. "In 2H, we expect food prices to ebb as supplies catch-up and inflationary expectations soften on strong rains," Rao wrote.
The June to September monsoon this year has progressed as predicted, with the overall surplus at about 1 percent by the first week of July.
Factory output (IIP)
Manufacturing activity, as measured by index of industrial production (IIP), is likely to show weakness in May as well, after having contracted 0.8 percent in the previous month. From an intra-sectoral perspective, nine out of the 22 industry groups showed decline during April, according to a government statement issued last month.
"On the production end, disappointing performance in the last two months is likely to extend into May, even as the headline rises modestly. Headline industrial production (IP) is likely to rise 0.3% YoY from -0.8% month before," Rao wrote in her update.
"Factoring in the consolidation in most lead indicators, including PMIs, auto sales, core industries index and exports, we look for activity to largely flatline in May," she added.
The markets sustained the rally on Monday afternoon, with the benchmark index, the S&P BSE Sensex, trading 481 points, or 1.77 percent higher, at 27,607. The gains were mainly on account of global cues, with Asian equity markets opening on a firm note and US stock markets ended with strong gains last Friday.