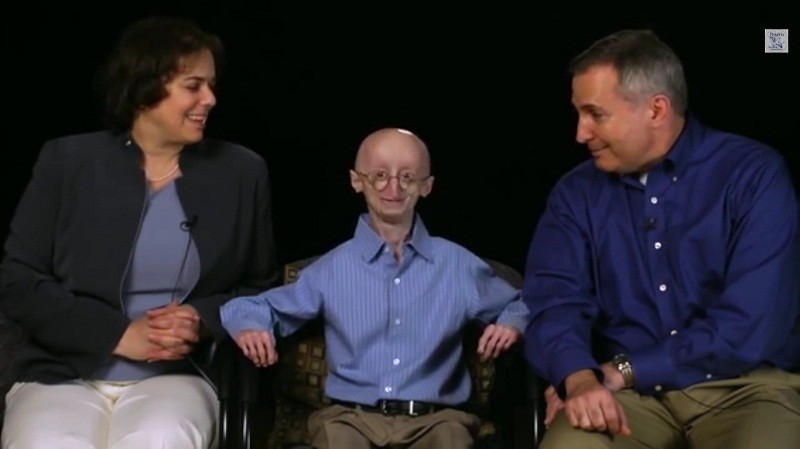 Sam Berns, the teen who lived an inspiring life despite suffering from premature aging disorder Progeria, passed away at the weekend.
Sam's death came just a day before he was set to be named honorary captain of his favorite football team - the New England Patriots. The team honored their superfan with a moment of silence at their game on Saturday, and dedicated their victory to him.
The 17-year-old was the subject of Sean Fine and Andrea Nix's recent HBO documentary feature Life According to Sam. It is believed that the film is a strong contender at this year's Oscars in the Best Documentary category. The film revolves around Sam, his fight with the disease and his parents' brave battle against time to find a cure.
Sam's parents - Drs. Leslie Gordon and Scott Berns - established The Progeria Research Foundation in 1999 to find the cause of the disease, its treatment and cure.
Sam, who became something of a poster child for the rare aging disorder or the so-called Benjamin Button disease, was diagnosed with Progeria before the age of two, and his mother Leslie has been researching on finding a cure since then.
The teenager had also featured on TED Talks for his positive outlook on life.(Watch Video).
Tributes have been flowing in from all corners after his death. The most touching statement came from Patriots Chairman and CEO Robert Kraft: "I loved Sam Berns and am richer for having known him. He was a special young man whose inspirational story and positive outlook on life touched my heart. I am so lucky to have had the opportunity to spend time with him and to get to know his incredible family. Together, they positively impacted the lives of people around the world in their quest to find a cure for Progeria."
"The HBO documentary, 'Life According to Sam' shared his incredible story with a national audience. It was so beautifully done. It made you laugh. It also made you cry. Today, it's the latter for all who knew Sam or learned of his story through that documentary. Earlier this week, I had extended an invitation for Sam to be the Patriots' honorary captain for tonight's playoff game. I was looking forward to spending more time with Sam and his family. News of his passing came as a complete surprise. It is another reminder that we can't take anything for granted. Be sure to give your loved ones hugs and kisses and tell them how much you love them. My heart aches for his parents, Scott and Leslie, his aunt Audrey and the rest of Sam's extended family. Words cannot express the sadness or the depth of sympathy I feel for them today," Kraft added.
New England Patriots honored Sam with a team shirt with his name on the back.
I know Sam Berns is happy looking down on a Bruins and Patriots win. this is for you and we will never forget you pic.twitter.com/69TvazIb8y

— Patrick Power Jr. (@PowerBruinsfam) January 12, 2014
A minute of silence was observed at Gillette Stadium to honour Sam.
A moment of silence @GilletteStadium for our friend & inspiration, Sam Berns: pic.twitter.com/iwi0ZUqTJo — New England Patriots (@Patriots) January 12, 2014
Members of American Rock group Dave Matthews Band, who were inspired by Sam's life and have been working with the The Progeria Research Foundation, posted a condolence message of its website.
"We are so sad to report that our good friend, Sam Berns, passed away on Friday, January 10, 2014. We thank Sam and his family for the profound impact he made upon our lives. His short and brave life will never be forgotten. Our hearts go out to Sam's family during this sad time."
"Sam's family started the Progeria Research Foundation, which is doing groundbreaking research and will hopefully put an end to this terrible disease..." Dave Matthews Band stated.
My philosophy for a happy life by Sam Berns [Watch Video]