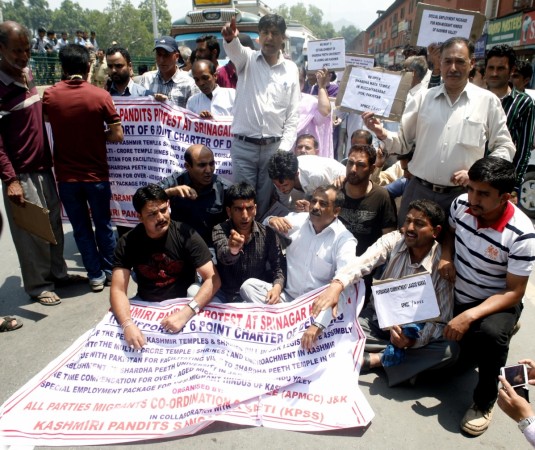 The Jammu and Kashmir Assembly on Thursday unanimously passed a resolution to create a conducive environment for the return of Kashmiri Pandits and other migrants to the Kashmir Valley following the exodus of 1990.
Former Jammu and Kashmir Chief Minister Omar Abdullah addressed the House in the morning and said that the Assembly should rise above party politics and pass a resolution for the return of Kashmiri Pandits and other migrants who fled the Valley 27 years ago.
Abdullah said that Kashmiri Pandits and members of the Sikh community and some Muslims were forced to migrate to other locations due to "unfortunate" circumstances. "Today it has been 27 years since they (Kashmiri Pandits, some Sikhs and Muslims) left the Valley and we should rise above politics and pass a resolution in the house for their comeback," the National Conference president said.
Minister for Parliamentary Affairs Abdul Rehman Veeri approved for the resolution to be brought into the House toward the end of the Question Hour. Speaker Kavinder Gupta moved the resolution after which it was passed by a voice vote.
Bollywood actor Anupam Kher on Thursday told ANI: "No Kashmiri Pandit can ever forget what happened on January 19 in 1990. Lakhs of people were on streets. Announcements were being made from mosque saying 'Kashmiri Pandits, leave your house, leave your women, you go.' That night is unforgettable for our Kashmiri Pandit friends and relatives."
"It's been 27 years today. This exodus day is not celebrated, but remembered. It is an effort to make our voices reach to those ears who don't want to hear this. Even after 27 years no person has ever picked up any weapon because we believe in peace and the greatness of our country," he added.
Militancy in the state forced Kashmiri Pandits to flee the Valley following persecution and death threats by radical Islamists and militants. The Kashmiri Pandits were threatened to either leave, convert to Islam or die. On January 19, 1990, mosques in the Valley declared Kashmiri Pandits as kafirs and told them to leave the women behind if they decided to flee Kashmir. The homes of the Pandits were targeted by Kashmiri Muslims for conversion to Islam or killing.