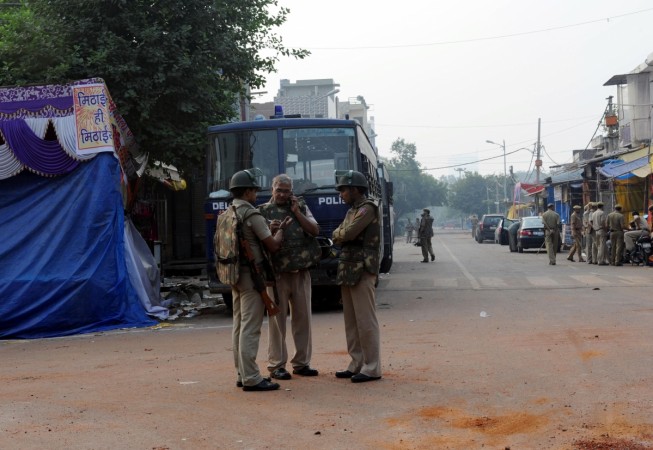 After facing violence in the riot-hit Trilokpuri in East Delhi, the locals have now fallen prey to commodity hoarding, as local shopkeepers in the area have increased the prices of essential goods by two- to three-folds.
The communal clash on Diwali turned violent on Saturday, following which the Delhi police had to impose a curfew in the area. Grabbing the opportunity for profiteering, now the local shopkeepers are indulging in hoarding and black-marketeering.
As a result, residents, who ran out of essential commodities like milk and eggs, were forced to pay double the usual cost of the goods.
As the police have restricted people from stepping out of their homes, the residents are now solely dependent on local shopkeepers who have shut down their regular business and are selling groceries at hiked prices through their back doors.
"Eggs that usually cost us Rs. 4. are being sold for Rs. 10 per piece, A half-litre packet of milk worth Rs. 24 is being sold for upto Rs. 50," Hindustan Times quoted Kiswas, a resident of Block 27, as saying.
Meanwhile, most of the shops in Blocks 22, 23 and 27 are selling the basic grocery items at triple and quadruple of the usual cost.
"Potato is being sold for Rs 80 per kg, onions for Rs 120 and a small packet of Kurkure snack that costs Rs 5 is being sold for Rs 15. A packet of milk that costs Rs 38 was going out for Rs 70 and a litre of packaged drinking water for Rs 60," The Indian Express reported.
While most of them have run out of money as some ATMs in the area have been damaged in the riots, those who are trying to get some money from ATMs in other areas were beaten up by the police and sent back home.
"We have no option but to buy [at inflated prices] as we are not allowed to go outside. We have no money at home as the ATM in the area has also been damaged," a housewife, Parveen, said.
However, there are a few Good Samaritans too. Grocery shopowner Shameema Begum lets her neighbours carry essential goods to their houses secretly. The goods that she has been handing out to the residents for free were lent to her husband by shopkeepers of Block 8 area, a Hindu settlement.
"When the police imposed prohibitory orders, we had to make arrangements for essential commodities... We carried rice sacks and took as many milk packets as possible. We are thankful to our Hindu brothers and sisters who helped us in tough times," Shameema said.